Microsoft has started rolling out the new features to Windows 10 Mail and Calendar app for Gmail account holders. Some of the features which were accessible only to the Outlook users and Office 365 customers will now be available to the Gmail users. The new features, for now, are made available only for the users participating in Windows Insider Program, but will eventually be made released for all Windows 10 users.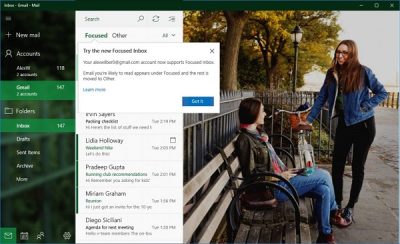 Gmail users have been using the Calendar and Windows 10 Mail for quite a long time, but some of the nice features were restricted to the Outlook users only. With this lately rolled update, Gmail users will now be able to use Focused Inbox where they can prioritize their emails and will also get an enhanced experiences for all their travel reservations and package deliveries along with a faster and improved search experience.
This announcement was made via the official blog post of Vivek Kumar, Microsoft's product marketing manager of Windows 10 Mail and Calendar said, "Windows 10 Mail and Calendar will soon provide other features to Gmail users: "easily tracking travel and shipping deliveries, making emails more actionable, helping you easily track your favorite sports events, faster search, and more."
To user these newly added features, Gmail users would have to sync a copy of their email, contacts, and calendar to the Microsoft Cloud. As said by Microsoft, this update will be rolled out gradually, and the new experience, for now, will be available only for those who are a part of Windows Insider Program.
Users will be prompted to update their Gmail account settings once they receive the update and will be reminded again in a few weeks in case they miss the first notification.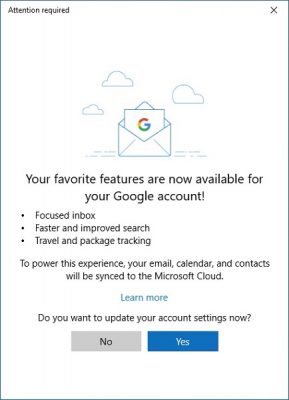 So, if you are a part of the Windows Insider Program, send your Gmail details to Microsoft Cloud and start using the new features like Focused Inbox, better search and travel tracking.