Google has been quite a lot busy these days updating many, almost all of its services. Gmail is one of those services getting an overhaul. The Product Manager Itamar Gilad via Official Gmail Blog announced the new features to the newest version of Gmail.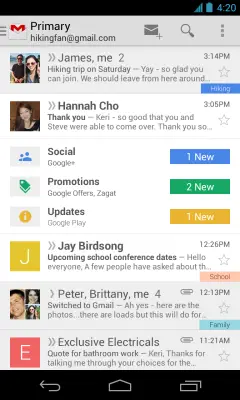 Here's the description:
We get a lot of different types of email: messages from friends, social notifications, deals and offers, confirmations and receipts, and more. All of these emails can compete for our attention and make it harder to focus on the things we need to get done. Sometimes it feels like our inboxes are controlling us, rather than the other way around.
Gmail Reworked
The fresh update to Gmail brings a brand new inbox on desktop and mobile that puts Gmail users back in control of their email management task using simple, easy organization.
The new Gmail inbox sports tabs (Inbox groups as Google calls it) to organize different emails. You can set email from a particular sender to always appear in a specified tab. This will help Gmail put spammy posts in "Offers" tab and friends can be put into another tab, thereby helping you have a stress-free experience while dealing with different types of mails.
Drag-and-drop feature too is supported to move messages between tabs. Tabs will need to be configured via the desktop. On mobile phones tabs will be displayed via a tray that slides out from the left side of the Gmail app. The upgrade will be rolled out to the desktop, Android and iOS version of Gmail in "the next few weeks.