Google has launched a new service named Contributor that will allow readers to kill advertisements on their favorite websites for a monthly fee. The way the Google Contributor program works is that, users can choose to make a monthly contribution of USD 1-3 per month, to not see the ads. Google will collect this money and from this pool, will distribute the money to its partner websites, depending on your  usage of the site, keeping a part for itself.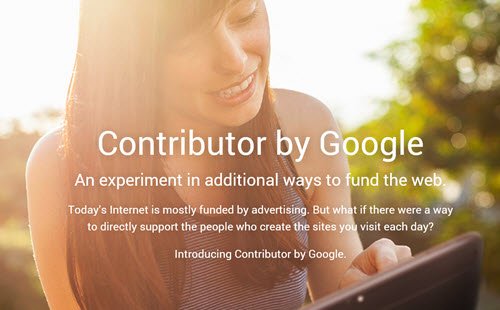 Google Contributor program
In exchange for your support, instead of the ads, you will get to see a Thank you for being a Contributor message on the websites you chose to support, if they participate in the program.
Today's Internet is mostly funded by advertising. But what if there were a way to directly support the people who create the sites you visit each day?  When you visit a participating website, part of your contribution goes to the creators of that site. As a reminder of your support, you'll see a thank you message – often accompanied by a pixel pattern – where you might normally see an ad, says Google.
In this way, users will not see the ads, and yet they will still be able to support their favorite websites, blogs and content creators!
Nothing on this planet is free. Many of us assume that the Internet is a free source of information. Is it really free? Can it really exist in the utopian free state? In today's life, one cannot do away with ads – whether it's in the newspapers, the television, the outdoors or the web. You may ignore the newspaper ads, go for a snack when the TV ads are flashed or go blind to the large billboards which dot urbania. The ads are there, you may choose to ignore them – but they are still there none the less, make no mistake!
Read: Surfers vs Online Advertisers vs Ad blockers vs Publishers
The Google Contributor program is still in its experimental stage and only a handful of websites are participating it. Google will see how it goes and then decide about the future of this program. If it works – many will join and the program may take off.
Google and other online advertising companies have been seeing decreasing revenues. It costs money to generate content, which is available for free to anyone. This gets funded by ads. But some do not want to see ads, hence use ad blockers to block them. This rise in the use of ad blockers is reducing the revenue of websites.
The end-point is, as a user what would you prefer? Seeing the ads or paying Google to not see the ads. Or would you as a user, voluntarily allow ads on some websites, by disabling your ad blocker for some sites or white list some sites, like say, this one?