Google Earth is one of the most impressive products from Google. It has helped millions of people visualize how places look like without being physically there.  I have personally used it to show my kid what he has been reading in his geography and historical books. Google didn't just stop there but turned it into a canvas for everyone. Using these creation tools, anyone can draw over the world, create their own map using place markers, attach custom text, and videos to locations to make it better. Once done, you can share your Google Maps and Stories to do storytelling, perform real-world scenarios, and more.
Google Earth lets you create your own maps & stories
Google Earth had been here for over 15 years. Google rewrote the program two years for the modern browser, and its Voyager program allowed people to create stories, add 360-degree images in the form of storytelling. Today, Google is taking its next major step to improve it further by opening the opportunity of turning the power of mapmaking and storytelling to everyone.
Here is an example where American Rivers built a map proposing a sea barrier on the map that can when the river is under threat. If you carefully look at the presentation, it is a slideshow built on top of Google maps. Every aspect has been highlighted about the situation and represented on Google Maps, which can help anybody understand the condition of the real world.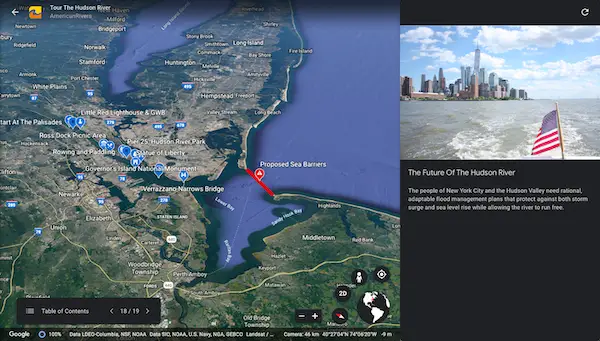 The creation tool allows you to draw lines, shapes, add custom text, images, place markers, and videos to tell your story. Just like the above example, you can create a table of content. Anyone can go through it to understand the complete story.  By the looks of it, it is going to open a new ay of presentation for almost everyone. You can be the one trying to propose a solution for a real-world problem, or a tour guy who would like to attract tourists to hire you by showing your skills here.
Features of Creation Tool in Google Earth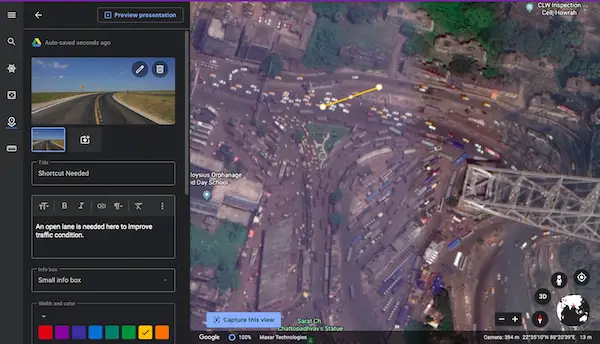 Add placemarks, lines, or shapes to the map.
You can set how the scene will look like in the presentation. The best way to do it is by using the right 3D view. Frame your scene so anyone looking at it can understand the real-world scenario.
Add rich text, photos & video to add more life and context to the project.  It comes with a rich text editor to add a narrative.
Use the slide feature to create title cards and break projects into sections. Once done, you can click on the present button to review your presentation.
You can also add more people to your team to collaborate on the Google Earth project.
Read more on the Google Earth announcement page.