Google has introduced a new, 'Scorecard' feature to the AdSense platform. The feature has been added to help website publishers understand how well their ad settings, web pages and content are performing compared, to those of other AdSense publishers, claims Google.
It explains that publishers look up to Google for bench-marking information on how their site is performing relative to the sites of other AdSense publishers. Hence, the introduction of publisher scorecard as a new bench-marking feature in their AdSense account.
Scorecard for AdSense Publishers
The scorecard can be found on the Home tab of your AdSense account. It is organized into different categories
Revenue optimization
Site health
Google Plus
It strikes me almost immediately that Google never misses an opportunity to try and promote its social networking site adoption via any tools it makes available for public use.
For each category, Google gives a score between one to five blue dots. Each score indicates your ranking relative to other publishers in that particular category. A lower score in a category means that you have potential areas for improvement. Google makes recommendations to help you get started and improve traffic and revenue.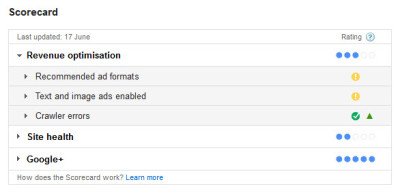 To find out what's causing a lower score you simply need to expand a category by clicking its right arrow, and then check the status of the items within that category. There's nothing to be worried about as Google doesn't punish any site for scoring low in any of the above mentioned categories. It is just as an information tool to provide insights about your website's performance.