After the outrage over information leak by social media giant Facebook, all IT companies which collected data started working towards making privacy controls more accessible for end users. Google, Microsoft, Twitter, etc. made privacy controls accessible to users. However, they were mostly hidden, or very few knew about them.
Understanding its social responsibility, Google is all set to make privacy controls easily accessible to its users. Earlier this year, Google made allowed users to modify privacy settings through the Google Account page. Now it is available as a part of the search menu.
Read: Find out what Google knows about you.
How to access Google Privacy Controls
For PC browsers-
Search your query in the Google search bar.
Click on Settings.
Select Your data in Search.
For mobile browsers-
Search your query in Google search.
Click on the 3 parallel lines on the top-left corner.
Select Your data in Search.
Read: Prevent Google from tracking your activities.
What can you delete?
Your Search activity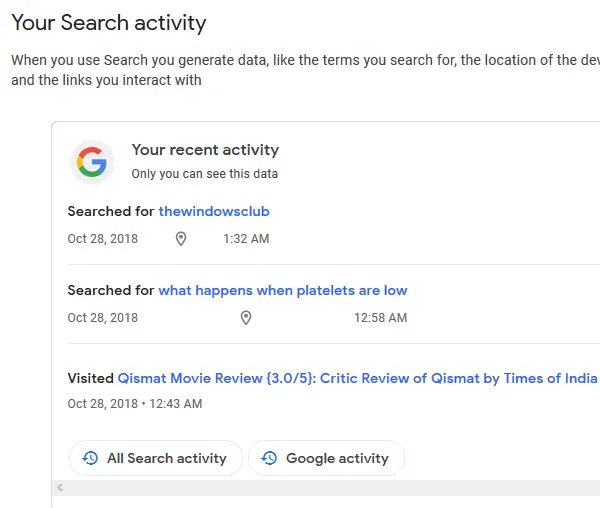 It shows your recent activity on the browser along with the data and time.
Delete your Search history

You could delete either the Search history in the last hour or Search history ever using this option.
Google-wide controls
Google collects user data to analyze user preferences and arrange advertisements accordingly. If any user doesn't feel comfortable with the same.
Web & App Activity
If this option is ON, it will save search results and other activities on Google websites and associated apps. It would also save your location.
Voice & Audio Activity
Switching this option to ON allows Google to record your voice commands and recognize your speech.
By default, the Web & App Activity option is enabled, and Voice & Audio Activity is disabled.
Ad Personalization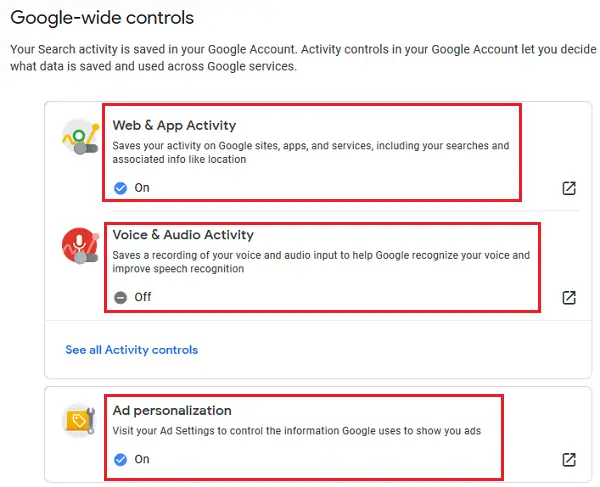 Enabling this option allows users to customize their ad preferences.
Google has promised to extend these privileges to Google Maps and other Google products next year. This voluntary initiative by the company explains their genuine concern towards user safety and privacy.
Related reads:
Google Privacy Checkup Tool will harden your Privacy and make your online accounts safer.