Google now wants to make auto-delete the default data retention policy to ensure the safety and privacy of its users' data. The search giant recently announced certain privacy improvements whose objective is to keep users' information secure and private. This way, Google can essentially avoid being in control of your web and app activity data after a specific period of time.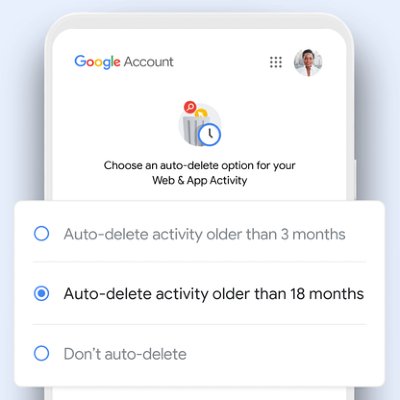 Google to auto-delete your app activity data
In his recent blog post, Google CEO Sundar Pichai wrote:
"We believe that products should keep your information for only as long as it's useful and helpful to you—whether that's being able to find your favorite destinations in Maps or getting recommendations for what to watch on YouTube."
Lasy year, Google came up with auto-delete control to let users have control over the retention of certain user data such as Location History, search, voice and YouTube activity, etc. Interestingly, Google now provides users with a choice to have Google 'automatically and continuously' delete their certain app activity data after 3 months or 18 months.
Regardless of what period you choose, Google will automatically delete your activity data for that specific period of time. Google will continue to exercise this data retention and removal activities until you make changes to Google's data-retention period for your data. Guess what? Google also provides users with an option to choose 'Don't auto-delete.'
Regardless of what option they choose, users can continue to manually delete certain app activity whenever they want.
How Google's auto-delete controls work
First of all, Location history is disabled by default, according to Google. The time you turn it on, Google will set your auto-delete option to 18 months by default. For new accounts, Google will set the auto-delete option to 18 months by default as far as their Web & App Activity data is concerned.
In case you have already had your Location History and Web & App Activity turned on, Google will make no changes to your settings. However, Google will continue to remind you from time-to-time about the auto-delete controls through in-product notifications and emails.
Protecting 4 billion devices every day
According to Pichai, Google plays an active role when it comes to defending users against various cybersecurity threats and challenges lurking around. Thanks to its Safe Browsing, Google says it protects more than 4 billion devices from phishing and malware every day.
"We provide automatic protections across all of our products, including Safe Browsing, which protects more than 4 billion devices from phishing and malware every day, and Google Play Protect, which scans your apps before, during and after download to help keep your devices safe," Pichai added.
Ensuring user safety and privacy is of paramount importance for modern technology companies that offer online, Internet-based services these days, and now that most users are working remotely, the security challenges have become even more serious.
You can check out these safety and security tips to protect data when working remotely.