A while back, Mozilla decided to replace Google with Yahoo as the default search in its Firefox browser. Not willing to take this quietly, Google has started urging Firefox users, who are using Yahoo as the default search engine to change it to Google.
If you visit Google.com, you will get to see the following message: Get to Google faster. Make Google your default search engine, or a Come here often? Make Google your home page message. The options provided are Sure and No thanks. This message is not something new and definitely not restricted to Firefox users only.

But such a thing again, is not something new, as Google also has such a page created for Internet Explorer users.
What is of interest, is the fact that Google tweeted a link to a new web page that Google had created specially for Firefox users, saying, This one's for all the Google Search-loving Firefox fans out there.
This newly created page gives step-by-step instructions on how to change your default search from Yahoo to Google.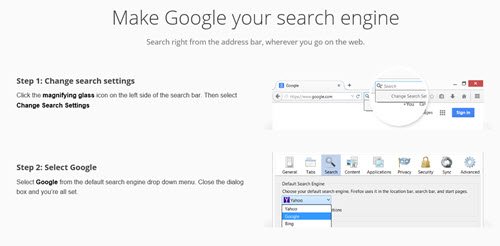 There are reports that the Mozilla- Yahoo deal has adversely impacted Google's share, but whether the reason is this deal, or something else, is unclear.
If you are a Firefox user, what have you done? Stuck with the default search engine Yahoo, or changed it to Google or Bing.