The latest Transparency Report from Google is out now which reports that it tracks malware and phishing sites which are the new addition this time. The report says that two of the biggest threats online are malicious software that take control of your computer and are commonly known as malware and phishing scams that manipulate you into sharing your credentials and personal information by confusing you with similar links as the official one.
Google started the Safe Browsing program in 2006 to find and flag suspect and unsafe websites. According to the report, Google is currently flagging up to 10,000 sites in a day, which is an alarming figure in itself. Thanks to this technology by Google and its implementation in browsers which helps to keep more than a billion users safe online.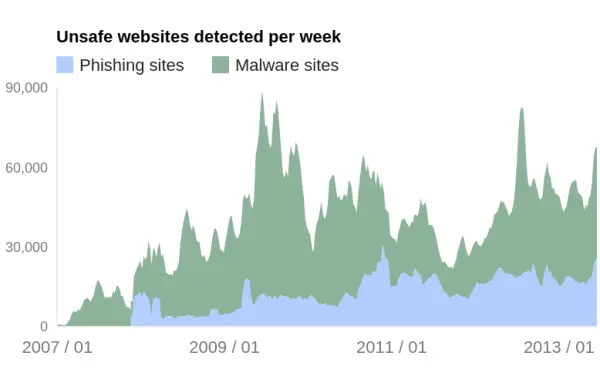 The Safe Browsing program protects users from malicious content online. Google says they provide 12-14 million Google search queries warnings per day for malicious or suspicious content and send thousands of notifications daily to webmasters and Internet Service Providers (ISPs). Google also says that it detects phishing attacks based on the pattern of phishing sites and cover more diverse form of attacks now.
Google has introduced a new section on their transparency report where they will share the number of people receiving these security warnings and the source of these malware and phishing sites. The report also says that it will also give Google a chance to share government requests for user data and to remove content and current disruptions to their services.
Google spotted a gross total of 67,909 compromised sites in mid-June alone, and it will take a month for all webmasters to clean their servers. Amidst this security threat from online, we should not forget that even mobile users are facing an increasing number of mobile phone threats every day. We recently reported on the increasing number of malware on Android and also shared some tips on how to protect your mobile device from such threats.