Google Chrome has been updated with several new features, performance improvements, and bug fixes. Some of the most recent additions to Google Chrome v85 including productivity enhancements. Some of these updates claim to load Chrome tabs up to 10 percent faster, in addition to collapse group tabs with a click of a button, among other things. Here's everything that's new with Google Chrome v85.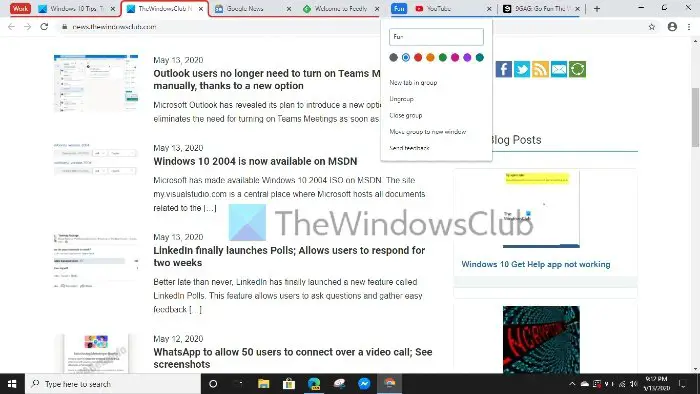 Download and install Google Chrome 85
"We're sharing a number of improvements, including tabs that load faster and new features that let you organize and find them easily," said Alex Ainslie Director of UX, Chrome.
Google Chrome tabs to load 10 percent faster
Google brings Profile Guided Optimization to Chrome 85, which claims to reduce page load time by up to 10 percent. Meanwhile, Tab Throttling is coming to the Beta channel.
Earlier, TheWindowsClub exclusively reported Google's plans to intensively throttle JavaScript wakeup timers in Chrome tabs so that it can increase your device's battery life by 28 percent to 2 hours.
Collapsible Group Tabs
Google is also bringing new changes to the way users create group tabs and collapse them with a click of a button.
Previously, Chrome simplified the process of working with too many tabs by allowing users to organize them, courtesy of a feature Tab Groups. It lets users visually distinguish tabs by topic or task.
In Chrome 85, users can expand or collapse their tab groups so that they don't end up taking too much space.
Other productivity enhancements
Google Chrome has some other features to offer in the coming days. For instance, Chrome wants to provide laptops users with new experience switching between tabs in Tablet Mode.
Let's say you are using Chrome in your laptop's tablet mode. Switching between tabs and finding the page you're looking for is set to become much easier. This feature is coming to Chromebooks first.
Chrome users can switch to an already opened tab through Omnibox.
Another feature coming to the beta is tab preview thumbnails. This feature will come in handy when you have too many tabs opened on your computer.
Chrome is also letting Android users open URLs through a QR code.