Google wants to make it easier for others to discover your contact information using its search engine. Google has introduced a new search feature called People Cards, Google India's latest initiative to let users create their own virtual visiting cards. You can now create your own virtual visiting card using Google's all-new People Cards on Google Search.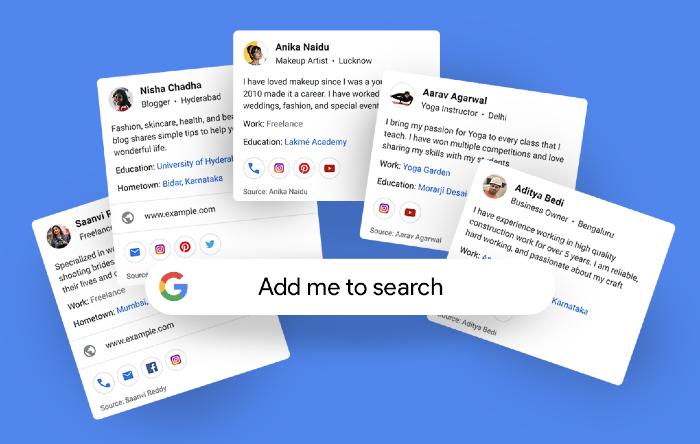 Google introduces People Cards
Searching for famous people including politicians, sportspeople, and celebrities on Google often works like a charm. That's because Google uses a number of sources to fetch all the relevant details about well-known personalities, courtesy of Wikipedia pages, news articles, etc.
However, it's not often easy to find the information about people who aren't famous, something Google is now trying to address with the help of people cards. People cards will benefit anyone who wants to be easily discovered online. Freelancers, influencers, entrepreneurs, self-employed individuals, and prospective employees are most likely to benefit from this feature.
"Today, we are solving these challenges with a new feature called people cards. It's like a virtual visiting card, where you can highlight your existing website or social profiles you want people to visit, plus other information about yourself that you want others to know," said Lauren Clark, Product Manager, Google Search.
Addressing the search spam issue
Google has also addressed the search spam issue that may arise in the future. First up, Google is limiting the availability of this feature to one people card per Google Account. However, there is absolutely no guarantee that users are unlikely to abuse this feature by sharing false, misleading information.
"We have a number of mechanisms to protect against abusive or spammy content, and if you come across low quality information or a card that you believe was created by an impersonator, you can tap the feedback link to let us know."
Previously, Google in its Webspam Report revealed that more than 25 billion web pages it discovers every day are spammy.
How to create and submit a people card
First things first, ensure that you are signed in to your Google account. Now, go to google.com/search/contributions/profile. You need to decide whether you want to include the image from your Google account. Now, add a description of yourself, links to your website, or social profiles. If you want, you can also add a phone number or email address.