Halo 5: Guardians in its current form is already looking like a winner, but what this game achieve with HoloLens? A few have gotten the chance to see it in action behind closed doors at E3, and what they have to say makes us both excited and cautious.
The many reports claim Microsoft highlighted a demo that showed a Halo 5's new multiplayer mode, Warzone in action using HoloLens. From what we have come to understand, the demo only showed the briefing where a virtual commander is briefing players on what the objective is. All of this is happening on a table. It also shows the map along with possible enemy positions.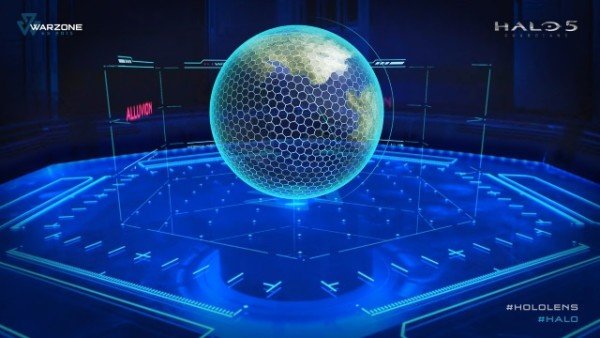 One person said the augmented reality objects have a Tron vibe feel to them, and we find that very exciting. However, we began to worry after learning of what makes HoloLens in its current form a device that is very far from ready for prime time.
You see, it has everything to do with the field of view. It is very small, which makes us wonder if viewers were deceived during the HoloLens demo at Microsoft's E3 press conference. During this demo, Microsoft was showing what Minecraft would look like using this great augmented reality technology. From what we could tell, the field of view was good enough, but such is not the case, apparently.
In truth, the field of view is small. It was described as similar to looking at a mobile phone screen due to how small the objects were. Furthermore, it was also said that users were forced to keep their head straight because movement takes them out of the experience. Again, this problem arises due to the small field of view.
We should point out that the Oculus Rift has a 110 degrees field of view while StarVR is rocking 210. The eyes naturally have a field of view that tops out at 180 degrees. From these numbers and the way folks are talking about HoloLens, it is clear that the field of view is terrible for now, and probably one of the reasons why Microsoft has yet to announce a price and date for sale.
Until the software giant can get HoloLens to work in a way that will have viewers coming back for more, then for now it is just a working prototype that does what it sets out to do, just not perfectly.