Protecting your computer from malware has become a major hassle these days, with almost every software having malware-filled clones in the market. But, the irony here is that we now have a fake Microsoft Security Essentials Installer, which is essentially developed to safeguard the computer.
In Windows 10 and Windows 8, Windows Defender is the default program that provides anti-malware protection and is installed and enabled by default when Windows is installed. But a lot of Windows 7 users install Microsoft Security Essentials for increased protection.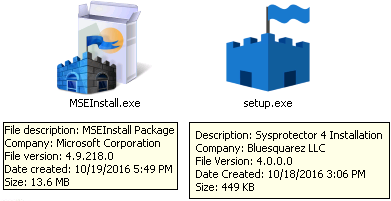 Hicurdismos is a fake MSE installer
Named Hicurdismos, the software is as troublesome as its name. This threat was recently discovered and uses a fake BSoD in order to replicate a genuine-looking tech support scam. This prompts the user to reboot or reset the system – the typical response during an actual BSoD on their PC.
The screen then displays some contact information in the Blue Screen that claims to solve the problem, but it doesn't work. The user will get prompted to download more malware, leading to a shutdown of his system and loss of documents. This scam related to technical support identity has been around for quite some time now but is witnessing a rise in the past couple of years, especially after Windows 10 was launched.
Although Hicurdismos has great hiding skills, your SmartScreen filter in Microsoft Edge and Internet Explorer can filter out the file and warn you before the download begins. This warning is not shown on any other genuine Microsoft programs so you can easily detect which software to stay away from.
As mentioned earlier, Hicurdismos displays contact numbers on its fake BSoD to lure customers to get to call and divulge sensitive information to untrustworthy people.
To avoid this attack and/or prevent it from happening, you can follow these precautions.
Real error message screens do not include a support phone number; they just have an error code and simple information on what went wrong.
On Windows 10, Windows Defender is built-in, so there is no need to install Microsoft Security Essentials.
Microsoft installers are signed by a Microsoft certificate; this lets you check the genuinity of the software.
Whenever you get such an error that shows contact information which doesn't seem right, you should disconnect from the Internet and scan your computer with your antivirus software.
You can report such incidents here:
Read more about this on Technet.