The greenest gadgets in the world comes from an Indian company! Wipro, an Indian IT major has topped the 18th edition of the Greenpeace's ranking of green electronics companies in its maiden appearance. The company has surpassed many leading brands such as Apple, HP, Toshiba, Acer, etc.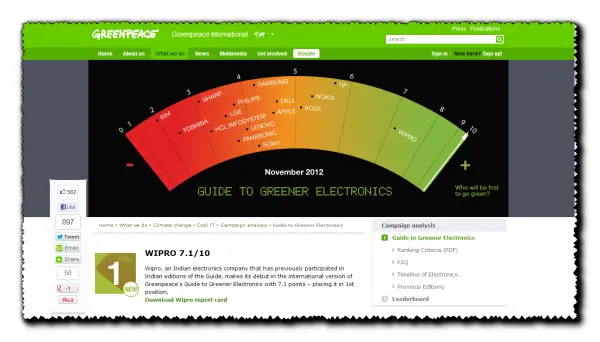 Greenpeace Gadget Guide Report
Wipro has moved over HP which topped the previous guide in November last year. Apple on the other hand, has slipped from 4th position to 6th due to the lack of transparency in the report submitted by it.
Greenpeace report suggested that Wipro scored most points due to its efforts to adopt renewable energy and advocacy for greener energy policies in India. It avoids hazardous substances from its products and recycles collected waste materials regularly.
"Wipro has set a new benchmark for sustainability, not only in India but across the globe, that will have a long-term impact in shaping the green energy debate in the electronics industry," Greenpeace India Senior Campaigner Abhishek Pratap said.
Greenpeace is a global non-governmental organization that rates many global electronics corporations based on their environmental policies and practices. The organization uses different environment criteria for this. Latest to be included are:
Energy and climate
Greener products and sustainable operations
Wipro is the biggest surprise. This is the first time they were included in the ranking and have taken the top spot" said Casey Harrell, senior IT analyst for Greenpeace and lead author of the report, the Guide to Greener Electronics.