Recently we covered about Nokia 130 mobile phone, the very first handset device from the house of Microsoft after Nokia acquisition. Here we have a beautiful Infographic designed by Nokia, which displays Nokia 130 capability, we will discuss more about it. Catch us after the jump!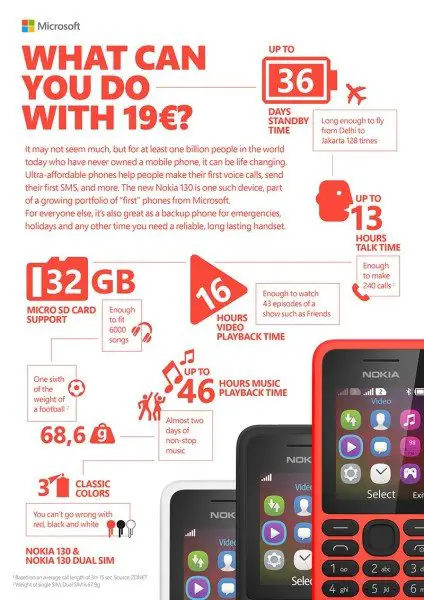 In the above Infographic, Microsoft demonstrate the hidden features in the handset. The key feature that are been highlighted are:
Long battery life: Stand by time is equal to fly from Delhi to Jakarta 128 times (36 days), 46 hours of music and 16 hours of video playback.
Expandable memory support– 32 GB microSD, enough to store 6000 songs, 43 episodes of video
Color option: Both Nokia 130 & Nokia 130 Dual SIM available in 3 dynamic colors; Red, Black and White
Performance:: Price ratio: A great phone for $27, Nokia 130 is a great backup phone for emergencies
Faster way to share: Share videos, contacts with built in SLAM feature.
Nokia 130 also has flashlight, personal information management feature, number screening for messaging, call management feature and is also a better energy efficient device.
Now, lets talk what you will not get in this handset?
No Java support
No social media app
Small screen size, not suitable to watch video on it.
We know, these days even the basic phone comes with pre-installed social media apps like Facebook, Twitter which is definitely missing here but who cares about it if you are getting a trusted and reliable phone with some other features that you cannot avoid of. Being  a budget phone, Microsoft has designed the architecture of handset in such a way that it can handle all those basic requirements. So, if you are your expecting something big that usually we see in smartphones then this is not a right handset for you.  Nokia 130 is just another budget phone for those who are looking for a there first budget phone or a backup handset.
Do let us know your feedback, queries about the device in your comments below !
Via Nokia.