Within a day of the release of the Build 14371 for PC , Microsoft has released Windows 10 Insider Preview build 14372 for PC and Mobile in the fast ring. This build is just one build newer than the last one but has many fixes, improving overall performance and reliability.
New Extension for Microsoft Edge:
A new extension Evernote Web Clipper for Microsoft Edge is available in this build. With this extension, you can Clip the web pages you want to keep, save them in Evernote and easily find them on any device. This is available at extensions page at the Microsoft Edge Dev website.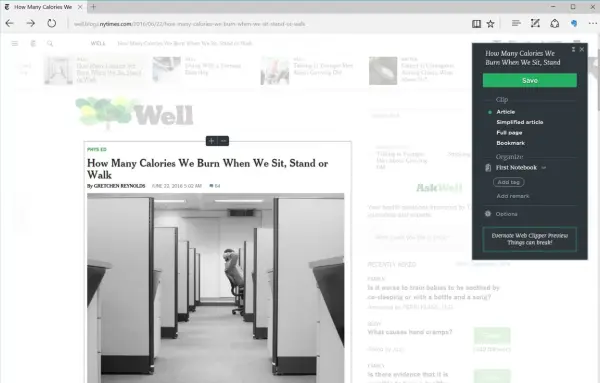 Known issues in Build 14372 for PC:
Clicking on networks or VPN connections in the network flyout on the taskbar doesn't launch the network settings page
There are some issues with Evernote Web Clipper extension for Microsoft Edge. The Evernote Web Clipper might not load on certain websites and there is no thumbnail image when clipping bookmarks.
Enabling Developer mode in this build will give error message. This will be fixed soon. You can still F5 deploy apps from Visual Studio to your PC.
Known issues in Build14732 for mobile:
Backup format for Windows 10 Mobile devices is changed to reduce the size of the backup stored in OneDrive. As a result, if you do a backup on a device running the latest Windows 10 Mobile Insider Preview builds and move back to the released version of Windows 10 Mobile (Build 10586) and restore from your backup – your Start screen layout won't restore and remain the default Start layout. Your previous backup also gets overwritten.
Decreases in battery life on devices with SoC 8974 chipsets on devices like Lumia 830, 930, and 1520 is being investigated.
Wi-Fi disconnect issues is also being investigated.
Apart from announcing this new build, Dona Sarkar also mentioned few stats for last week's Bug Bash. Microsoft team is working on triaging and investigating the top bugs that were sent and getting ready for Windows 10 Anniversary Update.
Insiders completed ~71K Quests and filed 81,217 pieces of feedback and up-votes.
Insiders from all over the world participated with strong participation from China, India, and Brazil
Feedback from far away places like Botswana, Turkmenistan, Gambia, Seychelles, Togo, Mali, Liberia, Greenland were also received.