October 22nd 2013 was a historic day in technology as it witnessed two game changing companies Apple and Nokia showcase some of the best and intuitive and innovative gadgets. But it wasn't all about gadgets, though. At the Nokia event, albeit they released 6 new devices, including their first ever tablet, Nokia Lumia 2520, many app and related announcements were made. One such announcement was about our favorite mobile instant messaging service WhatsApp.
The CEO of WhatsApp Jan Koum announced that their service is now being actively used by whopping 350 million users across the world. Koum also announced that over 250,000 users are registering for WhatsApp using Nokia devices every day. This includes Windows Phone, Symbian, Asha, and Lumia handsets.
The announcement doesn't surprise us though. This past April, WhatsApp had reported 200 million active users and claimed to surpass Twitter. Later in August, the app celebrated 300 million active users. The app reportedly gained about 100 million users within 4 months.
Now contrary to what most service in that position would do, this 4 year old startup, which is available for all the cross platforms, doesn't shove advertisements to its users, and is completely free for the first year and after that it charges a minimal amount of $1 every year. Interestingly, they keep renewing and extending its subscription for many users.
Regarding their strategies, CEO Koum said,
We do it smartly, we do not expire everyone's subscription at the same time. We want to show the world that there can be a business without advertising, because once you have advertising your users become the product.
If you are a user of WhatsApp you might have noticed the update notification the app generates every once in a while. The app is bringing many new features to the service and making the UI cleaner, and its functionalities more accessible. There aggressive update cycle shows how dedicated they are when it comes to providing great support and services. Couple of months ago, WhatsApp introduced voice messaging feature. Voice messaging is not a new feature, per se. But if you are a user of WhatsApp, you would know how easy it is to send voice messages. Regarding this Koum said, "The number of taps matters. People want to send a message and be on their way."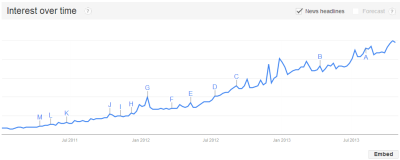 To give you an idea about how popular this service has become, here is a snapshot from Google Trends depicting how many people have looked for that word in the past.
WhatsApp seems to be ripe for an acquisition. There has been a lot of rumors and reports suggesting acquisition of WhatsApp by Facebook and Google. But none of them spiked to any conclusion. Would Microsoft be interested in buying this messaging service? Microsoft already has bought Skype, which is capable of both text and video conversations, so it does seems unlikely – but then again,  one can never be too sure!
Anyhow, with such a good service, and advert free environment, we can't help anticipate this instant messaging service to grow bigger and gain more popularity. But at the same time, seeing the arrival of premium Blackberry Messenger (BBM) on Android and iOS platforms, it could face strong competition.