Have you ever been to trekking on Mount Everest or ever dreamt about the same? If yes, Microsoft has some good news for you. You can now have overwhelming trekking experience right on your computer system/tablet.
Microsoft's partnership with GlacierWorks (foundation of filmmaker and mountaineer David Breashears) now brings an awe-inspiring opportunity to experience the beautiful Mount Everest views on your PC/tablet. This multi-touch exploration platform on the web brings the expedition to Mount Everest on your fingertips. The software giant launched the program "Everest: Rivers Of Ice" today on the 60th anniversary of the historic first ascent to the summit of Everest.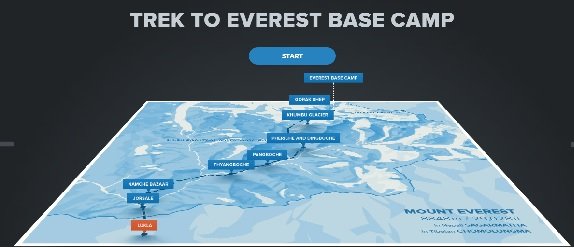 Microsoft and GlacierWorks together bring a HTML5 based website 'Glacierworks.org' allowing the viewers to see and enjoy the changes in Greater Himalayan Regions and Mount Everest. The developers at Pixel Lab and Microsoft Internet Explorer team are working together to bring the experience live to the users worldwide and to help them understand the impact of global warming on the world. This website includes the transformations of the Himalayan Region and its glaciers over last 86 years.
The website explain the changes in Mount Everest by comparing the recent images of Mount Everest/Himalayan Range and the images taken long back in 1921 by explorer George Mallory.
Explaining the project, filmmaker Breashears said in the official blog post, "The change is happening, and we are part of it. This is all of our planet, so it's important to ask questions and learn about that change, and join us in finding a solution."
Some of the technical features of the project "Everest: Rivers of Ice" include-
Touch: This feature brings a more natural experience of Everest expedition for the tablet users. The touch mode of the program delivers very intuitive ways to explore the magnificent Mount Everest.
Gigapixel Panorama Viewer: This multi-resolution panorama viewer feature of the program shows perspective corrected panoramas of the glaciers of Himalayan Range containing billions of pixels.
Rich Interactive Narrative (RIN): This interactive feature developed by Microsoft Research brings the cinematic narratives for the online maps, panoramas, data visualizations and paginated documents.
Filmmaker David Breashears together with Microsoft's Internet Explorer bring the complete experience online for the users to explore the transformations occurred in the Himalayan region. Join the program here and enjoy the comparative photography, videos and the gigapixel images.
Check out the video to know more about Everest : Rivers of Ice