One cannot imagine a world without domain names. If there were no concept of domain names, we would all have to remember some  unintuitive, geeky IP addresses. Thanks to domain names, which made our lives simple, by offering human-readable names to access content over the Internet.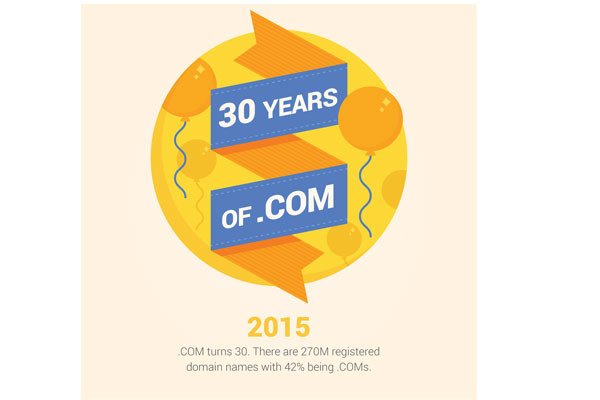 Though domain names were introduced way back in 1985, It didn't straight away get much traction amongst the public. The world had to wait till 1990's when World Wide Web became available to all, thereby unlocking the power of .COMs and other domain names like .NET, .EDU, etc.
30-year anniversary of .COM domains
Year 2015's March marks the 30th anniversary of .COM domain names. In a nutshell, these online addresses suffixed with .COMs (and various others) became Internet's own property – people began to spread messages, to start businesses and to access information which otherwise would have been almost impossible to find.
Internet, though being virtual in nature has impacted everyone's life in such a way that people are ready to pay to own their piece of pie. Having a presence on the Internet through websites, is similar to owning a property in a big city. The demand and popularity of domain names grew so much, that people were soon willing to pay millions of dollars for their desired domain names.
1985 was the year when .COM was first introduced alongside other popular domains like .EDU and .NET . It is thrilling to know that just after 20 odd years of its introduction, that is in the year 2007, a website named VacationRentals.com was bought for a whooping $35,000,000 – the most ever expensive domain sold till date.
As .COM turns 30, we're looking back on the history of domain endings and all they've made possible. Today there are more choices than ever before for people to find the perfect name for their businesses, projects and ideas on the web, says Google.
In 2013, a new gTLD adds 1000+ new domain names and offering variety of TLD name choices for internet users. Google, one of the top show-runners of internet too has recently launched Google Domains, a service where people can register their domains.
Today there are 270+ million registered domain names and about 17 million were added just last year (2014). 42% of these registered domain names are .COMs.