Microsoft has published a blog post that highlights that Internet Explorer 10 is and continues to be the most energy-efficient browser on Windows 8. The report was published on World Environment Day. As per the report of Center for Sustainable Energy Systems at Fraunhofer USA, the browser consumes upto 18% less energy than Google Chrome and Mozilla Firefox.
To prove their results, researchers tested the browsers on desktop and laptop computers in several common scenarios including:
Browsing the most popular websites in the United States.
Playing video content through Adobe Flash.
Playing video content through HTML5 video.
The research team found in all the above scenarios, Microsoft's proprietary browser – Internet Explorer 10 exhibited the lowest energy consumption. Here's the graphical presentation of it.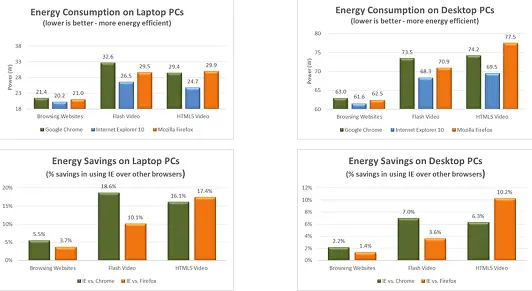 Here's what Microsoft had to say about its browser:
Switching to IE would save 120 million kWh in electricity and remove as much carbon dioxide as growing 2.2 million tree seedlings for 10 years. In today's test, the researchers focused on a set of popular websites and benchmarks. They also played a number of Flash and HTML5 videos.
Microsoft says that if every Google Chrome and Mozilla Firefox user in the United States used Internet Explorer 10 on Windows 8 for a year:
They would save over 120 million kWh in electricity!
This is enough energy to power 10,722 households in the United States for an entire year.1
This would eliminate the release of over 85,000 metric tons of Carbon Dioxide equivalent in greenhouse gas emissions.2
This is the equivalent of reducing greenhouse emissions by consuming nearly 10 million less gallons of gasoline.
This is equivalent to the carbon dioxide removed by growing nearly 2.2 million tree seedlings for 10 years.
Until now, several studies or research that was conducted only evaluated the energy consumption of residential computers. The impact that Internet browsers have upon computer energy consumption was never considered. The latest research commissioned by Microsoft sheds some light on his topic but I doubt if it will make many Chrome and Firefox users switch to Internet Explorer 10 just for one reason.