Public Perceptions can sometimes be truly divorced from reality! Yet another study, this time by NSS Labs, has found that Internet Explorer browser is the best, at blocking malware – blocking near-consistently around 95% of malware, as compared to Chrome whose block rate varied from 13% to 74% – with an average of just 27%!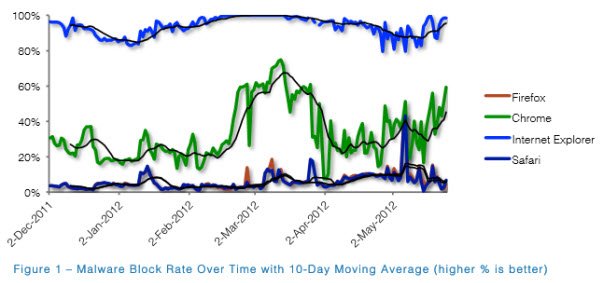 Four leading browsers, Internet Explorer, Chrome, Firefox and Safari were tested against 3 million samples of malware. The data captured provides an in-depth insight into the built-in protection capabilities of these 4 browsers.
Lack of Web Browser security is one of the most common reasons for malware infection, as they offer a direct and unique route for infection, bypassing corporate protection layers and bringing malware deep into the corporate environment, often protecting malicious traffic from detection using SSL. They offer the largest attack surface in most enterprise networks and are the most common vector for malware installation.
The study found that the leading browsers show a significant variance in their ability to block malware.  Each browsers blocking performance was tracked and mapped.
The figure shows the overall block performance of the four browsers. The large difference of the block rates between the browsers is note-worthy! The figures range from 4.7% to 94%, with Internet Explorer emerging as the clear winner.
The Click fraud catch rates for each browser were: Chrome 1.6%, Firefox 0.8%, Internet Explorer 96.6%, and Safari 0.7%., once again demonstrating the clear lead of Internet Explorer.
To read the details, you can download the PDF reports from here and here.