After 27 years of service, the Internet Explorer browser will be retired on June 15, 2022. Microsoft Edge will be the alternative with IE mode for legacy sites. Microsoft is encouraging customers to move to Microsoft Edge and the organizations and businesses running their Internet Explorer-based sites and apps are suggested to configure them to open in Microsoft Edge using Internet Explorer (IE) mode.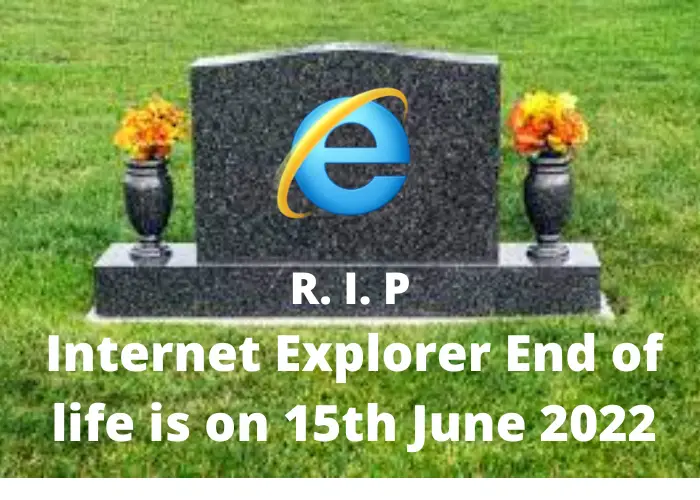 Sean Lyndersay stated that "The future of Internet Explorer on Windows 10 lies in Microsoft Edge." "Not only is Microsoft Edge a quicker, more secure, and more contemporary browsing experience than Internet Explorer, but it also addresses a crucial concern: compatibility for older, legacy websites and applications", he added.
Internet Explorer might not get deleted from your device but, if you try to open iexplore.exe on your computer after 15th June, you will be directed to Microsoft Edge instead. Similarly, if IE is your default web browser, it will change to Microsoft Edge automatically.
Internet Explorer End of life is on 15th June 2022
This seems like the end of an era. Internet Explorer, formerly known as Microsoft Internet Explorer came as a free add-on to Windows in 1995 and was later available for free downloads and was also included in the OEM service releases of Windows 95 and later versions of Windows.
There were hardly popular any web browsers in that era and thus Internet Explorer soon became the favorite of Windows users. Between 1995-2013, Microsoft released 11 versions of Internet Explorer and each version came with some new features and improvements.
This official web browser of Microsoft had 95% control of the world's web browser usage which is now drastically lowered to 0.62% control. For many, especially the 80s and 90s kids, the Internet Explorer was an introduction to a web browser and as its name suggests, it was the only mode to explore the Internet in that era. It won't be wrong to say that its legacy will live on.
Back then, Internet Explorer and Netscape were the only two browsers that allowed programmatic access to form images, elements, and links. Also, most of us don't know that CSS was first employed in Internet Explorer 3.
With the inception of many new competitive web browsers, Internet Explorer has lost its charm and popularity, and yes, not to forget the significant gaps between the version updates and new releases and its much-maligned speed problems. In the early 2000s, Internet Explorer had almost the entire market but then the competitive web browsers like Opera and Firefox came in, followed by Google Chrome with many modern features and great speed. Microsoft stopped adding new features to Internet Explorer in 2016 in favor of its new release Microsoft Edge.
The Internet Explorer will no doubt be remembered fondly by those who have used the Windows computers in their schools, home, and offices in the late 1990s and early 2000s.
Ever since the other web browsers captured the internet, the IE has become a part of the internet memes, especially for its slow speed. It was actually termed as the browser which is only used to download other browsers. Microsoft Edge replaced Internet Explorer officially in January 2015, and it was removed from the Start menu in Windows 11.
While most the computer users are making memes about the death of Internet Explorer, some users have already started getting nostalgic with some sweet messages like-
"A final tribute to Internet Explorer," It will cease support on June 15, this year. You have offered me many joyful memories as my first Internet connection. As a last hurrah, I'm going to try to download it on Windows 11. Goodbye! We might not see each other again."

"I'm sorry that Microsoft is discontinuing Internet Explorer, but who uses it anyway? I believe it's the loss of memories caused by time that makes me feel this way"
Do let us know via comments, what you feel about Internet Explorer leaving your computer systems forever.
Read: Internet Explorer is retiring; What does it mean for businesses?