Chitikia, the well-known ad network, released a report of Windows 8's a traffic few days ago. They have come up with another interesting report. And this time it's about Surface, one of the most ambitious projects of Microsoft.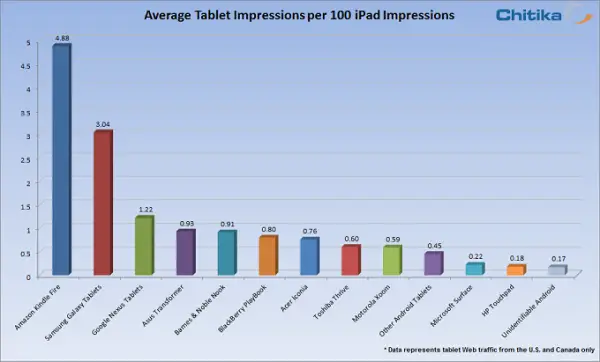 The report reveals that iPad is dominating the tablet market with almost no competition from other tablets what so ever. To quantify this latest report, Chitika Insights examined a sample of tens of millions of tablet impressions from the Chitika Ad network. This study was drawn from a date range of December 8th to December 14th 2012, and only includes traffic from the U.S. and Canada.
The graph given above reveals the number of impressions of other tablets per 100 iPad impression. Kindle Fire ranks at number one here with an average of 4.88 impressions per 100 iPad impressions in December – i.e. 4.25% share of all tablet Web traffic as a whole.
Samsung's Galaxy tab ranks second, with  an average of 4.88 impressions per 100 iPad impressions, while Nexus stands for only 1.22 impressions per 100 iPad impressions.
However, the biggest disappointment is Microsoft's Surface. Even though it was launched only a few months ago, we were expecting a lot better performance from Surface. With an average impression of only 0.22 per 100 iPad impressions it is proved that till now it is nowhere near iPad, says Chitika.
Apple's iPad on the other hand, has dominated the market with all their might and now with the iPad mini out, these differences are certainly going to increase.