As a movie buff, I was pretty gung-ho about The Internship – a movie about two dudes who win an internship opportunity at Google – one of the biggest tech giants in today's world. It seemed even more interesting when the two dudes were revealed to be Owen Wilson and Vince Vaughn – the ones who starred in the hilarious 'Wedding Crashers'.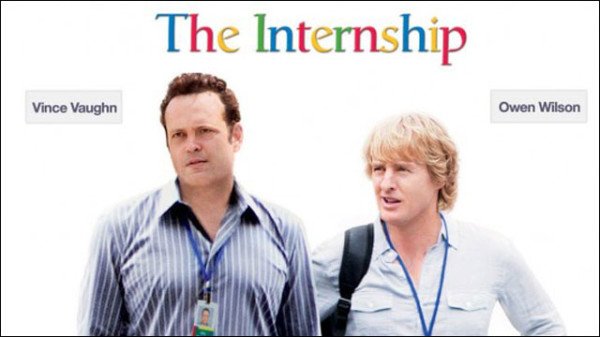 Set primarily at the company's headquarters in Mountain View, California, The Internship explores many well-known aspects of Google life (yes, free on-campus food, weird interview questions et al) and many Googlers (Google employees) are featured in as extras apart from co-founder Sergey Brin as himself.
Since the movie is all about Google, not mentioning its products is like buying a car and not driving it; products like Google Search (obviously), Gmail, Google Translate, Android and Google+ (Vaughn and Wilson conduct their internship interview through a Google Hangout session) find mention and screen time apart from others.  The Google self-driving car gets a cameo too however Google asked the makers of the movie to remove the scene where it crashes). Ouch!
Though Google hasn't paid anything to be in the movie but it quite convincingly acts as an 'unofficial' infomercial for the search giant but does have the 'official' feel all over it.
As box office sales go by, The Internship seems to have fallen flat and managed to rake in just $18.1 million dollars in its opening home weekend, way short of its $58 million budget. I am disappointed, indeed. The next time Vince Vaughn and Owen Wilson plan to come up with a new movie project, it should be devoid of the presence of any huge company's brand or etc. as only then the movie won't be restricted in being funnier and more entertaining. Well, who didn't like Wedding Crashers?!
Will we see more of such movies involving companies like Microsoft, Facebook, Apple or Amazon? Highly unlikely.
Is The Internship worth a watch? Yes, definitely. At least for the sake of the Wedding Crashers duo.