Journal from Microsoft Garage is designed for people who like keeping notes, and sketches, whenever inspiration hits them. Because that's the moment when a great idea starts to form and you are about to create something magical. The Ink solution from Microsoft Garage has got just better with a ton of new features.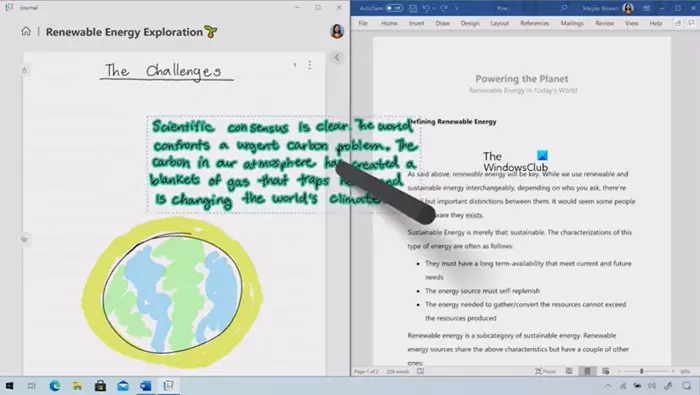 Journal from Microsoft gets new features and additions
For many of us, the ultimate way to show or express our inspiration is through writing. We reach for a piece of paper to put our ideas on it, flip through past pages to pull forward something we remember creating and do whatnot. Microsoft unlocks the same capabilities and others that are not possible with physical paper on its inking applications – Microsoft Journal.
The application now includes Microsoft's latest ink-to-text technology. So, when you select ink and copy it as text to other apps you will notice improved accuracy in the translation.
Key Features include:
An ink-first experience for those who write with a digital pen
Drag and drop selected content between pages, or to your favorite applications
Microsoft 365 integration to access your Calendar for faster meeting notes*
Import and markup PDF and images
A page-based canvas for easy scrolling, optimized for tablet and 2-in-1 devices
New intuitive Ink Gestures to erase and select ink that don't require mode switches
Use touch to scroll pages, or tap ink to select words, sentences, and more
Search and recall using keywords or filters
Moreover, as the app is equipped with AI, you can set different writing languages as default or set different language options per page. It will help the Ink AI recognize what you are writing more accurately.
The new Lasso tool in Microsoft Journal can handle cases where you write and circle items quickly, like numbers in a bulleted list. In addition, there's also a new music staff page style that makes it easier for music composers to use Journal to write their music.
If you think that's all the app has to offer then, think again. The app itself is powered by AI and enables gestures to keep you in the flow. For instance, you can multi-select by holding down the CTRL key and tapping with a finger, and choose whatever ink or item you want on that page.
Lastly, you can choose to save your pen state so that each time you open the app, it remembers the pen you use. To do so, go to Settings > Pen Options > Remember Pen State option.
Also, you can now import your protected PDFs into a journal.
For more information, visit Microsoft Garage.