Servers that host websites of most precious and important organizations in India were hacked successfully by a group of Algerian hackers. SanFour 25, as the group identifies itself planned and carried out a successful cyber attack on websites operated by the Defense Research and Development Organisation (DRDO) and the Prime Minister's Office (PMO), India.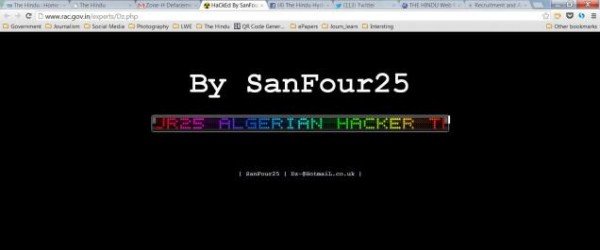 The most sensitive website that came under attack was the one operated by the Recruitment and Assessment Centre (RAC) of the DRDO (www.rac.gov.in/experts/Dz.php), other being the one hosted by the Adviser to the Prime Minister on Public Information, Infrastructure and Innovations (http://iii.gov.in/tmp/Dz.php)
DRDO site is most sensitive and of prime importance because it deals with the recruitment of scientists to the several laboratories of the DRDO. Other than the above mentioned 2 websites five more websites including that of the West Bengal police ( http://policewb.gov.in/wbp/coounter.txt ) were defaced by the hacker group.
Directorate of Estate of Ministry of Urban Development – http://gpra.nic.in/gpra/writereaddata/Dz.php
Biotechnology Industry research Assistance Council – http://birapdt.nic.in/video.Dz.php
UT of Diu – www.diu.gov.in/departments/Dz.php
Rehabilitation Council – http://rciregistration.nic.in/rehabcouncil/Dz.php
The attack came under light after the websites stopped functioning. The DRDO Recruitment and Assessment Centre site was down for over nine hours, reports The Hindu. The government sources were quick to act! They said "some suspicious and unwanted activity was observed on these websites, maintained by the National Informatics Centre (NIC), following which these were shut down for a couple of hours. After checking the websites, these were restored".
They however dispersed any hacking rumors by adding the following, "The information contained by these websites is already in the public domain. There are no secrets on these websites".
Both the key websites – DRDO and the one hosted by the Adviser to the Prime Minister on Public Information's appear to be back now and functional.
Although the motive of the hackers behind the action has not been confirmed yet, it indicates hackers have once again showcased the weakness of India's cyber-security system.