After their successful project on helping stroke victims recover from facial paralysis, Microsoft Kinect is now building new hopes for stroke patients needing physical restoration. Kinect's stroke recovery project has been working towards building a cost-efficient and interactive home-rehabilitation system, with the help of the Microsoft Kinect Technology, for motor recovery in patients recovering from a stroke. 'Stroke Recovery with Kinect' is a project based on the collaboration between Microsoft Research Asia and Seoul National University.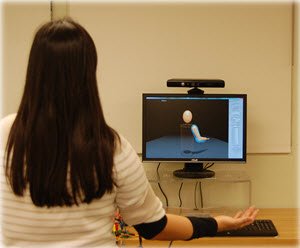 The project has been funded by the Korean Government Collaboration Program that helps providing a virtual reality system to stroke survivors. This system helps these survivors by improving their upper-limb motor functioning ability at the comfort and ease of their own home, rather than a hospital.
And now with the help of Microsoft Kinect technology, these patients have a new ray of hope as they can do the therapy on their home and can analyze the progress of their recovery. As the principal investigator of the project, Professor Nam-Jong Paik of Seoul National University says, "Since it's like a game, patients also have fun while rehabilitating at home."
How does Stroke Recovery with Kinect work
This system is built by using the Microsoft Kinect for Windows software development kit (SDK). Kinect sensor's 3D camera captures the movements of the 48 skeletal points on the patient, while they perform the therapy. Stroke Recovery with Kinect then interprets the movement data, allowing the system to assess and evaluate their progress. The patients also have the access to adjust the level of difficulty based on their previous progress evaluation.
For long-term plans, Kinect wants to integrate the ability to socialize through social media platforms, where stroke patients can easily connect with one another and together they can participate in other restoration programs. Each other's support will bring these patents closer, motivated and emotionally strong.