Kodi had been through many difficult crises earlier but somehow managed to stay afloat. However, the new development worries many of its users. The Twitter handle of the website informed that the site will be temporarily down until further notice.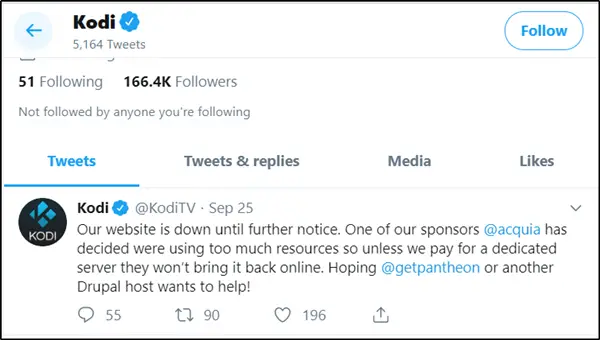 Kodi domain goes down and disappears
The tweet further clarified and mentioned that its sponsor @acquia believed, the website was using too many resources and paying very less. So, as an appropriate measure @acquia decided to take the service offline. Also, unless KODI agreed to the terms and conditions of the sponsor, they would refrain from bringing back the service. online.
As a result of this, when you visit Kodi.tv you will find the following message displayed on your device's screen –
Web Site Not Found

Sorry, we could not find any content for this web address. Please check the URL.

If you are an Acquia Cloud customer and expect to see your site at this address, you'll need to add this domain name to your site via the Acquia Network management console.
Formerly known as XBMC, Kodi open-source media player and entertainment hub Kodi, was free for use. But its support for plug-ins that allowed streaming of illegal content made it synonymous with piracy.
We all know, it's a legit source but passing through turbulent times again. Hope, it manages to collect the funds required to get the site up and running.
For more information on this topic, visit Kodi twitter handle. Do not forget to share your thoughts on this issue in the comments section below.
UPDATE: Tweet by Kodi.
Spoke with a VP over at @acquia and it's all been a misunderstanding. Both the guy who set it up on their side and ours has left, and info on both sides fell thru the cracks. They are working hard to help us now out and promised we'd have our site back online soon.