Following the Lenovo Superfish debacle, people are looking for places and vendors who can provide them with "clean" computers. Clean means no adware, no crapware, no bloatware but only the required operating system and required apps. Microsoft Store has been selling Signature Edition computers all along for past three years that provide customers with "clean" PC experience.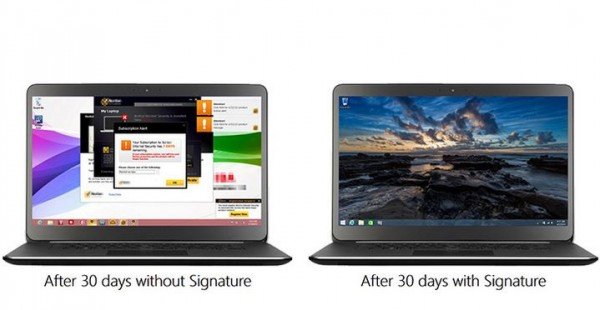 Not many people know about what Microsoft calls "Signature" edition PCs. The computers are available at Microsoft online store and are a bit costlier than what you can expect from other vendors. Microsoft says they handpick computers with good configuration and make them crapware free so that users can enjoy crapware-free computing without irritating pop-ups and intrusive programs.
Microsoft also says that it offers free antimalware with the clean PC experience. The free malware in question is the Windows Defender that comes preinstalled with Windows operating system. Users may use it if they want but since recent studies showed that Defender is not very good at handling all types of malware, users who buy Clean PCs can install third-party antivirus and antimalware. Installing a third party antivirus will automatically turn off Windows Defender in many cases.
According to the Signature Edition website, the Signature PCs are configured for optimal performance: faster boot times, faster shutdowns, good hibernate speed etc. It has many demos in place to let you see the difference you'll face when buying a third party computer loaded with crapware and how you'll fare when you buy signature edition computers from Microsoft.
In fact, the Microsoft Signature edition PCs are well tuned notebooks (and tablets) that are optimized for running the latest operating system. All the Signature edition computers come with the latest operating system. The website says"
"When you buy a new PC at Microsoft Store, we ensure there's no third-party junkware or trialware installed"
According to PC World, there are sixteen mainstream laptops and eight gaming PCs other than the Surface tabs under Microsoft Signature edition computers project. All of them come with a guarantee that buyers will not find any trialware, crapware, and adware etc. on the computers.
This is much better than buying computers from local vendors as they tend to personalize their products with personal branding as well as installing different trialware and other programs that users will never need.