The world's second-largest PC vendor, Lenovo hosted a grand opening ceremony of its first US-based PC production facility. The 240,000 square feet Whitsett facility is located about 10 miles east of Greensboro. The opening ceremony was attended by North Carolina Governor and other prominent local dignitaries.
This bold step of Lenovo defies the decades-old trend of US electronics firms relying on overseas facilities for manufacturing and other outsourced functions.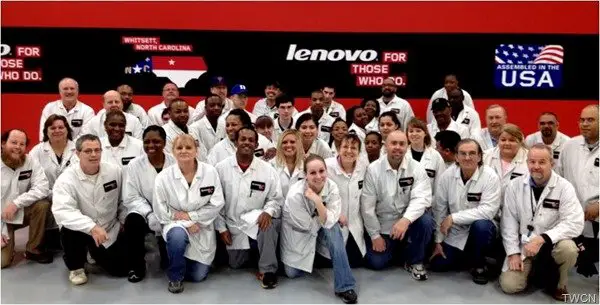 The center was serving as a logistics center, customer solutions center and national returns center and now PC manufacturing too has been added. It also added 115 new jobs. The production facility will produce the many of the new Think-branded PCs, such as the tiny ThinkCentre M92p desktop, ThinkPad Tablet 2, and ThinkPad Helix convertible Ultrabook and more. The new U.S. PC manufacturing line began operating in January and by the end of this month will be fully ramped up on production.Having lots of PC manufacturing being done overseas,it is great to see OEMs like Lenovo bringing some PC manufacturing to the U.S. helping drive jobs and boosting the economy and also enhancing customer experience.
Lenovo donated and presented 36 ThinkCentre Desktops made in Whitsett to the Greensboro YMCA to be used for youth development and education programs, celebrating and marking the continued growth of its U.S. PC manufacturing line.
"Lenovo has achieved record growth and market share in the U.S. PC market, and the Whitsett manufacturing facility will enable us to further expand our presence here," said Yuanqing Yang, chairman and CEO, Lenovo.
"Our in-house manufacturing strategy gives us control over both product development and supply chain operations. This type of vertical integration is a source of competitive advantage for Lenovo."
Very soon US users will be buying 'Made in the USA' Think-branded PCs from Lenovo!