Mac OS X is the most vulnerable OS, says GFI. The latest report released by GFI states that Apple Mac OS is the most vulnerable OS with 147 vulnerabilities, with 64 having a severe security impact. The report further states that iOS stood second in the list with 127 vulnerabilities followed by Linus with 119 vulnerabilities. Microsoft operating systems like Windows 8 / 8.1 / Vista and RT are no more listed in the top vulnerable operating systems, however they still show considerable number of vulnerabilities.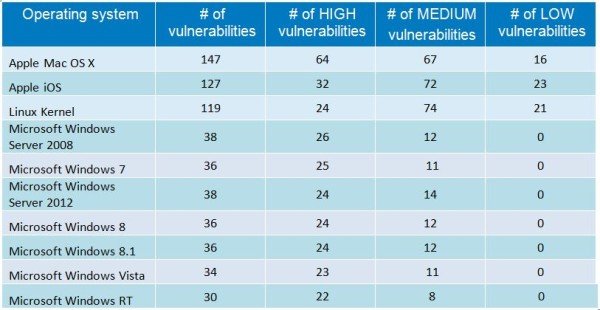 There is a significant increase reported in the number of vulnerabilities from last two years. 7,038 vulnerabilities in total were added to NVD database in the year 2014 and 24% of them had severely high-security impact.
Moreover, around 80% of the total vulnerabilities were sourced from third-party applications and 4% vulnerabilities are generated from hardware devices. Operating systems are responsible for remaining 13% of vulnerabilities.
The GFI report says,
"2014 was a tough year for Linux users from a security point of view, coupled with the fact that some of the most important security issues of the year were reported for applications that usually run on Linux systems. Heartbleed, for example, is a critical security vulnerability detected in OpenSSL while Shellshock is a vulnerability that affects GNU Bash".
Internet Explorer, the web browser from Microsoft still tops the chart of most vulnerable web browsers with 242 vulnerabilities followed by Google Chrome with 124 vulnerabilities and Firefox with 117.
To keep computer systems secure, it is critical that the following are fully patched always:
Operating systems
Web browsers
Java
Adobe products.