Internet Explorer isn't the only valid option on a Windows Phone. There are a handful of browsers available from third-parties, promising to offer a free way for improving your browsing experience. After all, variety is the spice of life. So, meet Maxthon – a cloud-based browser designed for Windows Phone. User of Windows PC may already be aware of the desktop version of Maxthon. Now Windows Phone users too can check it out.

The browser, once well-known as MyIE 2 has been worked up and launched for the mobile systems. It has adopted a unique approach to tab navigation: The browser opens its configuration options in new tabs, rather than Windows.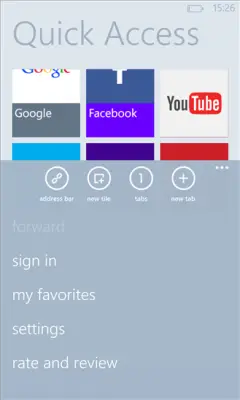 Users can just swipe up or down to go forward or backward in their browsing history and see current tabs. Moreover, each open or past tab appears as a kind of card, making it easier to find something you are looking for.
Maxthon Browser for Windows Phone
Maxthon Passport – Brings cloud-sync functionality on Windows Phone 8. It allows you to synchronise your favourites and more across multiple platforms.
Distinct Method to Navigate through History
Users can swipe up or down across an opened web page, in the tabs menu, to navigate to the latest or previous sites. Internet Explorer on the other hand, allows users to navigate through the history only by using the back capacitive key and the recent menu.
Quick Access
The feature is basically a collection of links, disguised as colored live tiles that can animate as you would expect.
The biggest roadblock for any third-party Windows Phone browser right now is that the tiled smartphone operating system prohibits users to set a new browser as default. Microsoft cannot be persuaded to change this design philosophy, it seems.
Although, Maxthon never rose to the popularity of Chrome, Firefox or Internet Explorer or became a household name as the aforementioned, this could be its chance to take over. Why? Smartphone users are not glued to the likes of Chrome, Firefox or IE as Windows PC users. And with a good balance of features in Maxthon, this could possibly seem reachable.
You might want to also check out: