Microsoft has been working to make the Microsoft 365 Defender package a complete solution for tech enterprises. The company has added several useful features in the past year as well. The latest on that list of features is getting email notifications when new incidents happen within the Microsoft 365 Defender domain.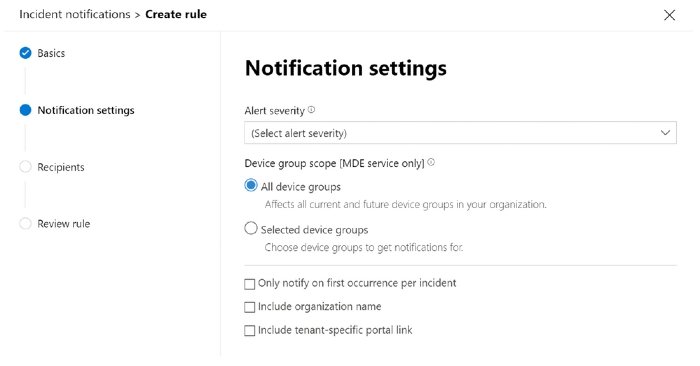 Microsoft 365 Defender will notify you of security incidents
That is, if the protection suite detects any anomaly or intrusion, it can send you an incident notification instantly. The said mail would consist of all information you would want to know about the security incidents.
For instance, depending on the settings you have chosen, the incident notification email will give you a wide variety of data, such as the time, type, and severity of the incident. This could be crucial because the user can then take the necessary action by themselves or delegate them to the corresponding teams.
In the screenshot shared on the Microsoft Tech Community, we can also spot options to customize the alert's in-detailed aspects. For example, users get to decide who gets notified first and whether there should be a follow-up email if the same issue happens for the second time.
"This notification email enables you to review your incidents effectively, without requiring any trouble ticketing system or API integrations. It can be a big help in transitioning your security operations processes and leveraging the great efficiency improvements provided through the incident's alert correlation capabilities," Microsoft said.
Considering that many companies use API integrations or some ticketing systems to keep track of security incidents within the organization, Incident Notifications from Microsoft 365 Defender would surely come in handy.
Once a user has set up the alert rules, they can sit back and relax, knowing that the Defender engine would notify in case of any trouble. Because these alerts come as emails, managing them on a single-issue basis would be comfortable as well.
Depending on the organization structure, you can add recipients of the warning emails as well. Of course, this process doesn't take more than a second.
In related news, Microsoft 365 Defender can now diagnose and report more and advanced forms of security threats. More importantly, the Incidents section of the enterprise suite allows users to get comprehensive information about an attack at all times.
The better incident investigation has also proven to be effective at preventing similar attacks in the future.