Microsoft Defender now combines Microsoft 365 security and Azure security, the company announced at Ignite 2020 virtual event. Plus, Microsoft has also rebranded several security products. Last year, Microsoft rebranded Windows Defender as Microsoft Defender.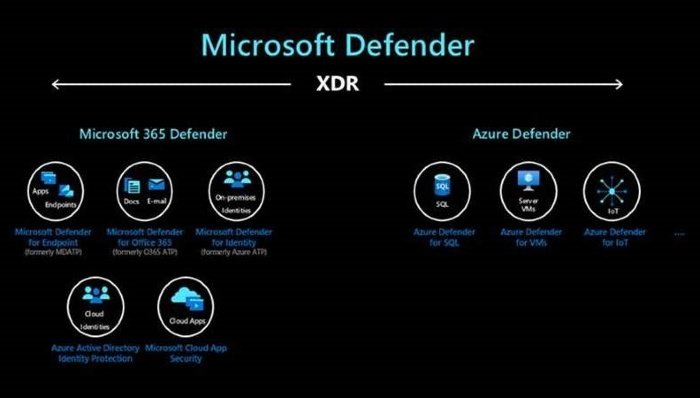 Microsoft Defender branding sees expansion
In a nutshell, Microsoft has expanded its Defender product line, which is split across Microsoft 365 Defender and Azure Defender. While Microsoft 365 Defender handles end-user environments, Azure Defender takes care of cloud and hybrid infrastructure.
The updated Microsoft 365 Defender line now also comprises Microsoft Defender for Endpoint, Microsoft Defender for Office 365, and Microsoft Defender for Identity. All Microsoft is trying to do is streamline branding across its Defender product line.
Microsoft Defender for Endpoint was previously known as Microsoft Defender Advanced Threat Protection. Similarly, Microsoft Defender for Office 365 and Microsoft Defender for Identity were previously known as Office 365 Advanced Threat Protection and Azure Advanced Threat Protection, respectively.
As you can see, Microsoft is playing the name game as part of its branding strategy, aiming to link these different but closely related areas together with each other. Hence, different areas under Microsoft Threat Protection are now together called Microsoft 365 Defender.
Similarly, the updated Azure Defender product line now comprises Azure Defender for Servers, Azure Defender for IoT, and Azure Defender for SQL.
Azure Defender for Servers was previously known as Azure Security Center Standard Edition. Meanwhile, Azure Defender for IoT and Azure Defender for SQL were previously called Azure Security Center for IoT and Advanced Threat Protection for SQL, respectively.
Although Microsoft Defender the company's eXtended Detection and Response (XDR) product, Azure's consolidated Sentinel will be Microsoft's Security Information and Event Management (SIME) line.
XDR makes sure to deal with active threats on endpoints by means of response and detection. SIME, on the other hand, will look for signs of a security breach on web applications.
Microsoft Defender combined with SIEM Azure Sentinel will enable customers access to visibility and actionable insights across enterprises.