Listening to user feedback, Microsoft has now decided to allow users to sign in to Microsoft Account, with any email alias that you may have added to your account. Earlier you could only sign in with your primary Outlook or Hotmail email ID, but now you will be able to use any alias. Just yesterday, Microsoft introduced the 2-step verification feature, and quick on its heals comes this oft-requested feature.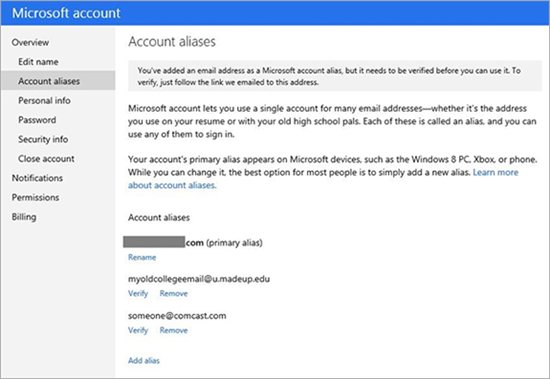 Microsoft has also simplified the process of adding and managing email aliases and will advice you when it may be good to add an alias or rename your primary alias. You can set up or manage aliases at account.live.com. If the page is not live yet for your account, you my want to check back later in a day or so, as the changes are being rolled out gradually.
Microsoft has also added 32 new country-specific @outlook addresses. These will be made available gradually over the next few days. So if you would like an email domain specific to you country, like outlook.in or say outlook.es, you will be able to get one. You can go here to see the full list of the newly added country-specific domains.
Stay tuned, as Microsoft is expected to roll out many new features in the coming days and weeks.