If you thought Steve Ballmer's surprise announcement to leave Microsoft was a big surprise, you are in for another show today. In a startling turn of events, Microsoft has announced that they are acquiring all of Nokia's devices, services business, award-winning team and license patents.
The whole deal is costing Microsoft a whopping sum of 5.44 billion Euro (7.17 Billion dollars) in which, 3.79 billion Euros is for Nokia's business, and rest 1.65 billion Euros for the patients and license to use Nokia's mapping services – and is expected to be completed by the first quarter of 2014.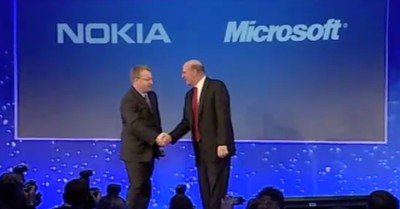 As the deal comes into its closing, about 32,000 Nokia employee, including Stephen Elop, who happens to be a former Microsoft executive and an expected contender for Microsoft's next CEO will be joining Microsoft.
Meanwhile, Stephen Elop has stepped down from Nokia's CEO to become the VP of devices and services. Risto Siilasmaa, Nokia Chairman will be acting as the provisional CEO of Nokia. In a statement, he said,
For Nokia, this is an important moment of reinvention, and from a position of financial strength, we can build our next chapter. After a thorough assessment of how to maximize shareholder value, including consideration of a variety of alternatives, we believe this transaction is the best path forward for Nokia and its shareholders.
Microsoft's Windows Phone recently surpassed BlackBerry to stand at 3rd position in the share of smartphones. They have made it clear that it is all certain about Windows Phones and its future. Addressing his employees, the CEO Steve Ballmer has shared his vision,
Now is the time to build on this momentum and accelerate our share and profits in phones. Clearly, greater success with phones will strengthen the overall opportunity for us and our partners to deliver on our strategy to create a family of devices and services for individuals and businesses that empower people around the globe at home, at work and on the go, for the activities they value most.
The future of Nokia's entry level smartphone, Asha seems uncertain now. And surprisingly, Microsoft hasn't cut its connections with its other mobile OEM partners like HTC. Meanwhile, the odds of Stephen Elop becoming the next CEO of Microsoft, now that he is no longer the CEO of Nokia and has returned to Microsoft has lent some weight to it as well. Let us wait and see what happens!