We reported here earlier about Microsoft concealing a Windows 10 ad generator under the Internet Explorer security patch, and now the company is behind the Administrators who Block Windows 10 upgrade.
It looks that Microsoft has sneaked in a file via the Patch Tuesday update which targets admins of businesses who have blocked Windows 10 update using Microsoft provided tools.  Reports say that domain-attached PCs with no admin rights and attached to the WSUS update server, are displaying the Get Windows 10 icon in the system tray.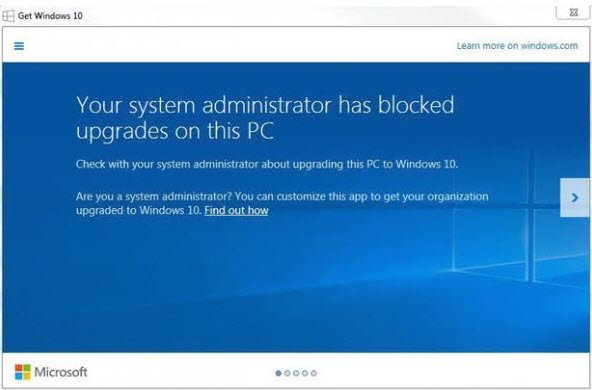 Get Windows 10 ad mocks System administrators
Showing the system admins as the ones responsible for blocking updates to user's PC, The Get Windows 10 ad this time almost mocks them mentioning,
"Your system administrator has blocked upgrades on this PC. Check with your system administrator about upgrading this PC to Windows 10. Are you a system administrator? You can customize this app to get your organization upgraded to Windows 10. Find out how."
A PC admin reported that some domain-attached VLC-licensed PCs installed KB 3035583, "the widely reviled Get Windows 10 app", months ago, but that the Get Windows 10 icon didn't appear until now. Another report that the "crapware-hiding c:\windows\system32\GWX folder" has appeared now.
Although researchers are working to identify the exact patch file responsible for this nag, until now there is no concrete finding on how it appears. The best that we can think of is the Internet Explorer security patch, KB 3139929. This appears to be the same notification described on this KB article.
Leaving a pretty bad impression about the Admins around the World is certainly something that Microsoft should have avoided. To make matter worse the last line of the pop-up advises admins on how to upgrade their organization PC's to Windows 10.
You can visit infoworld.com for more on this news.