Microsoft has made Bing powerful by adding a ChatGPT-powered chatbox to the search engine. Today, the new Bing has become more powerful with new powerful features. Until now, we have to wait until we got access to the new Bing when we sign up to the join list. Microsft now made Bing available to all by removing the join list.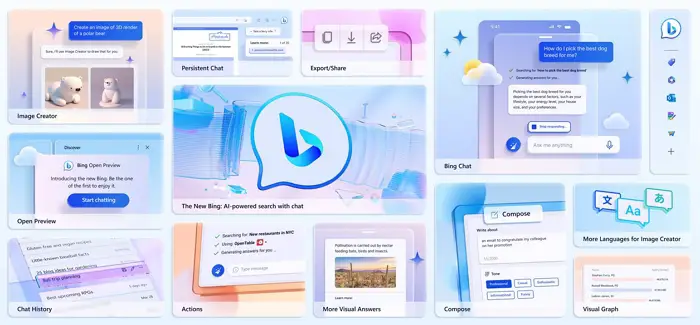 Microsoft adds new AI features to Bing and Edge
The new Bing is now in the Open Preview. The limited preview is now a gone case and the search is available to all with the chatbox. When we use the new Bing chatbox, we get answers in text form, now, the new Bing can give answers in image/video formats to make it more engaging to the users.
As the human brain processes visual information about  60000 times faster than text, Microsoft has added this feature. It is the chatbox version of Knowledge Cards and visual search in Bing. The visual answers in Bing include images, videos, charts, and graphics with an updated format.
Bing Image Creator was introduced recently in the English language. Now, it is updated for usage to more than 100 languages on Bing. Microsoft has also introduced a redesigned Microsoft Edge with Bing built-in. It gets sleeker with an enhanced user interface, rounded corners, organized containers, and semi-transparent visual elements.
Users can now use Bing for multi-session productivity experiences with chat history and persistent chats within the Edge browser as opposed to single-use chat or search earlier. You can access earlier versions of your chat on Bing and continue your search from there. The chats will now move to the Edge sidebar while you browse the web from the Bing chat result. Microsoft has also plans to introduce export and share options to save your chats.
Microsoft will soon introduce improved summarization capabilities for long documents, including PDFs and longer-form websites to make it easier for the user to consume dense content. There will also be a new feature called Edge Actions, to enable users to do more in fewer steps. Edge mobile will also get page context soon, to enable users to ask questions in the Bing Chat based on the mobile page you are viewing on Edge. 
The Bing platform is now open for developers and third parties to build their own versions based on Bing.