There seems to be a new addition made to the existing capabilities of Microsoft's very own search engine – Bing. The search engine has new feature in the form of a widget that allows you to test your Internet speeds.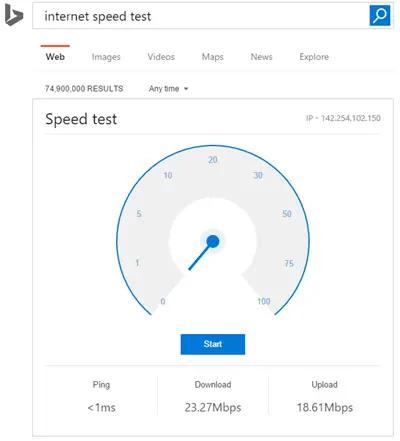 Bing Gets A Speed Test Widget
When it comes to checking the Internet speeds, there are plenty of online services available that allow you to test your internet speed with just one click. This process has been cut short and simplified furthermore – you are not required to even know the name of any service. Simply type the words "speed test" in Bing search engine and you should see a speed test widget.
If we throw a look at Bing, it seems, over the years, Microsoft has gradually added more and more features to Bing, it's just not limited to returning with relevant results to a user's queries but testing the speed of internet connection, playing games and more. May be this is just the tip of the iceberg of changes that we expect to see in near future.
A Bing user has uploaded screenshots on a popular social networking site of what appears to be a speed test widget built right into Bing search results. It shows up when searching for "speed test" on Bing engine, and allows users to perform a test without having to leave the search results.
The story is not the same for everyone as I was not able to replicate this feature in my search engine. May be it's a testing feature that has been rolled out in small phases and is likely to become a permanent feature sometime later. It's also unclear if this is an extension of the company's Network Speed Test app which is available for traditional desktops and PCs.
Try yourself! All you have to do is go to Bing.com and search for 'speed test' or 'internet speed test', and you might see it yourself.
Source: SearchEngineLand.