Microsoft just announced an all-new Surface device. This is a 2-in-1 convertible just like the Surface Pro line up but is far more affordable and targets a whole new segment of audiences. Microsoft has named it the Surface Go.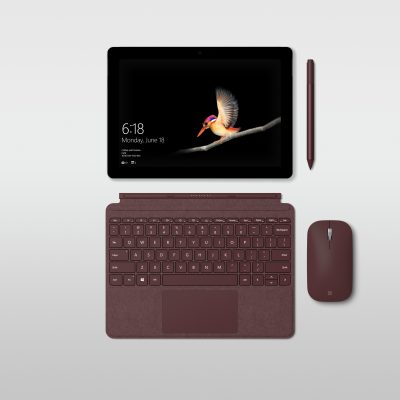 Microsoft calls it it as the most portable and affordable Surface product yet. They aim to target an audience that balances between work and entertainment. This tablet is for the people who need a tablet that has a power of a laptop. This can be used by people like amateur photographers, students, at home and more. This also shows the push for empowering the education sector from Microsoft.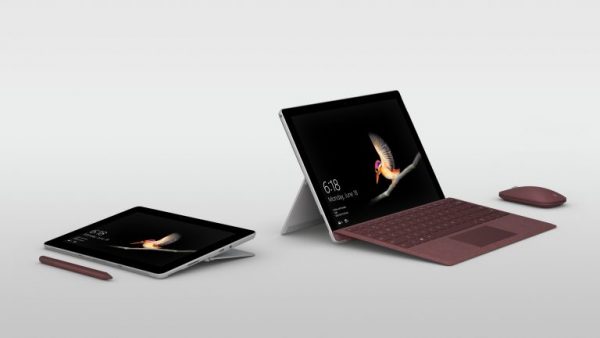 Surface Go specifications
The Surface Go has a 10″ touchscreen display with a 3:2 aspect ratio and 10 point multitouch display. It is powered by a 7th Generation Intel Pentium Gold processor 4415Y with two variants of 4GB RAM and 8GB RAM. The tablet is totally fanless and offers battery life for up to 9 hours. After making an appearance in the Surface Book 2, the USB Type C port is available here as well to offer better connectivity with higher transfer speeds and a more modern approach. In the storage department, it comes with 64GB eMMC and 128 GB or 256 GB SSD options. There is a micro-SD card slot that can expand your storage for up to 1 TB. You do get a 5MP front camera with a support for Windows Hello and an 8 MP rear auto-focus camera. It also supports Dolby Audio Premium as well as the Surface Type cover, Surface Dial, and the Surface Pen.
The pre-orders for this tablet begins tomorrow. Starting with 35 countries, the device will start shipping from August 2nd, 2018. The tablet will cost about $399. This excludes the type cover and the Surface Pen. The type cover is priced at $99 for the simple one and the one with Alcantara will cost about $129. The device will be available in the following countries for tomorrow's pre-order:
US, Canada, Australia, New Zealand, Hong Kong, UK, Ireland, France, Germany, Austria, Belgium, Luxembourg, Netherlands, Switzerland, Denmark, Finland, Norway, Sweden, Poland, Taiwan, Italy, Portugal, Spain, Malaysia, and Thailand.
It will soon be available in Japan, Singapore, Korea, and China and will come to India, Qatar, Saudi Arabia, UAE, Oman, Kuwait and Bahrain later this year. Also, an LTE variant will also be hitting shelves later this year.
https://www.youtube.com/watch?v=krRRskzHWFE
You can read more about this all new affordable Surface Go here.
UPDATES:
Microsoft has also launched Surface Go with LTE Advanced. It gives businesses the flexibility and capabilities to meet their needs.