Today, Microsoft announced a new OS designed for Lumia smartphones named MS-DOS Mobile. Microsoft has also launched preview version of the OS which is available for download on Windows Phone store. In a very surprising move, Microsoft stated that the company intends to go back to where productivity started for millions of people and thus wants to introduce MS-DOS for phones.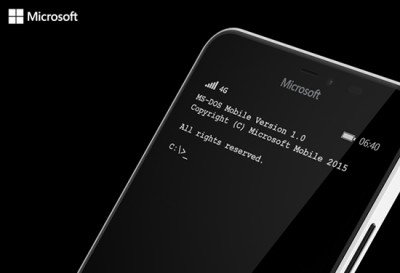 MS-DOS Mobile
MS-DOS Mobile has been designed to complement the heritage feel with a modern operation. The entire OS has been re-built from the ground up and it marks the next step in Microsoft's reinvention of productivity. The much loved C:/ prompt is making a come back giving access to BASIC, DOS and much more for its customers.
One important feature discovered in the preview version of MS-DOS Mobile is a utility app called B/W Camera which lets users to take picture in ASCII mode. The OS allows to run the existing apps which are installed on phone with support to system formatting commands like "format c:".
Daniel Glass, design lead of MS-DOS mobile project said,
Turning our back on graphics was hugely liberating. We've dropped the resolution, and in doing so re-discovered our roots.The inspiration for the graphical design is Courier New meets film noir.
Tom Messett, from marketing team at Microsoft Lumia in one of his statements said,
MS-DOS Mobile allows us to look proudly back, while at the same time moving us defiantly forwards.
It's simple, effective productivity re-imagined through the medium of DOS.
More information on MS-DOS Mobile can be found
here
. Download it from the
Windows Phone store
and let us know what you think of it.
Heh heh … Good one Microsoft! 😉