Microsoft wants users to verify that their environment is protected against advanced threats. As a result, Microsoft Defender ATP is providing users with access to breach and attack simulations through its portal. The software giant's Defender ATP has come to terms with SafeBreach and AttackIQ, third-party breach, and attack simulation solutions.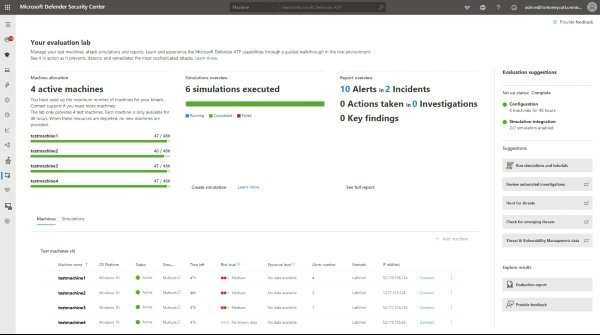 Microsoft Defender ATP evaluation lab breach & attack simulators
Microsoft Defender ATP has announced the public preview of these new integrations within its platform that are built into its evaluation lab. And since there are no prerequisites, interested users can check out attack simulators right within the Microsoft Defender ATP portal.
In a recent blog post, Microsoft wrote:
"Running threat simulations using third-party platforms is a good way to evaluate and experience Microsoft Defender ATP capabilities within the confines of a lab environment."
Microsoft Defender ATP is a unified endpoint security platform that can help users secure their remote machine, identify vulnerabilities, among other things.
What is Microsoft Defender ATP Evaluation Lab?
Microsoft Defender ATP says the evaluation lab allows users to evaluate the capabilities of the platform, run simulations, and use the prevention, detection, and remediation features on-the-go.
Evaluation lab console lets users run simulations. Both newly-integrated AttackIQ and SafeBreach simulations are accessible from within the evaluation lab console.
"Each simulation comes with an in-depth description of the attack scenario, references to MITRE ATT&CK techniques and attack groups part of the simulation, as well as sample advanced hunting queries you can run."
Before you access the evaluation lab, make sure that you comply with the licensing requirements, or have trial access to Microsoft Defender ATP.
To create the lab, machines, simulations, or reset the password, users must have Manage security permission. In the navigation menu, all you need to do is select Evaluation and tutorials > Evaluation lab > Setup lab.
Follow on-screen instructions to choose your preferred lab configurations. Then, you can install threat simulators in the lab.
Microsoft Defender ATP enables users access to the public preview of the new attack simulators. Just make sure that you have preview features turned on in Microsoft Defender ATP.