If there is one thing that makes Microsoft Bing a mounting competitor to Google, Microsoft has been trying its best to add more features. In the latest series, Microsoft has now introduced support for smarter recipe snippets on Bing.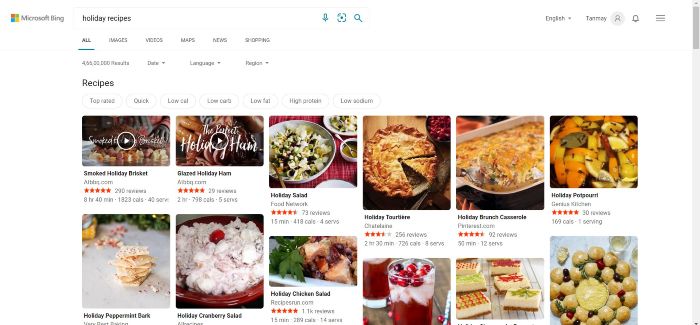 Microsoft Bing recipes
Meaning, the search engine would now work better when it comes to grabbing the necessary recipe information from websites and showing the recipes in an easy-to-understand and easy-to-cook manner. Google has had this feature for quite a while, and it's interesting to see Bing catch up in terms of smart search results.
It is worth noting that Microsoft has not made a big deal out of this update. It was silently rolled out, and, likely, users across all regions can now access the updated snippets on search engine result pages. Looking at how each recipe is shown, we must say that Bing has done an impressive job here.
Although the central design stays the same, each recipe would show you essential information, such as the amount of time you want to cook and the number of calories in each recipe. There are also options to sort through the available results based on nature.
For instance, if you want to find low-calorie and high-protein recipes from search results, you can tap on the given options. We also noticed that, like Google SERPs, Bing is also showing a preview pane for each of the recipes. So, before you put everything ready on the kitchen counter, you can know how others found the recipe.
Although silent, the update has come when people are looking for newer recipes and varieties of cooking options. Like every year, this holiday season would also see a rise in the number of such search queries.
It is unsure whether Microsoft is planning to launch more of its products and services during this season. For instance, to help those who are buying stuff online this time, Microsoft launched a price-checking tool, which automatically compares the online store prices.
These features are being well-received, also thanks to the increasing popularity of the Microsoft Edge browser.
Read: 5 areas where Microsoft Bing Search outperforms Google