Microsoft may discontinue the Windows 10 free upgrade offer for customers who use Assistive Technologies. While the free Windows 10 upgrade campaign has ended on July 29, some users are taking advantage of this offer from Microsoft to avail of the free upgrade offer, whether or not they really use assistive technologies.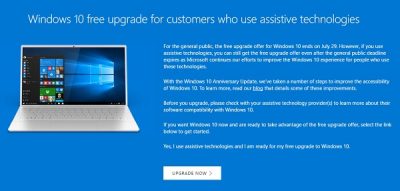 Earlier last month, Microsoft said,
"For the general public, the free upgrade offer for Windows 10 ends on 29 July. However, if you use assistive technologies, you can still get the free upgrade offer even after the general public deadline expires as Microsoft continues our efforts to improve the Windows 10 experience for people who use these technologies."
An alternative way for genuine customers who use Assistive Technologies
Now this particular page was specifically designed and developed for the users with challenges. While the free Windows 10 upgrade was stopped for all users on 29th July, this offer was still available for the users using these assistive features. Seeing the abuse of this discounted service, Microsoft has decided to stop giving free upgrade even to the users with assistive technology features – in the current form at least.
The genuine users with challenges can, however, contact the company via the Disability Answer Desk and get the free upgrade after proper verification.
A post on the Windows SubReddit states,
We have noticed that there are a lot of threads and articles lately regarding using a link for those requiring assistive technologies to upgrade to Windows 10 after July 29th, 2016.

Assistive technologies are for those with disabilities and who cannot use a computer in a conventional manner (e.g. narrators for the blind, eye tracking machines for those unable to move a mouse, suck and puff machines, etc). Unless you use those, please do not use the link floating about to late upgrade.

As it stands, that method of upgrading is based on an honour rule. However, having spoken with MS earlier today, they inform me that within the next couple of weeks that webpage and tool will be removed and instead require you to contact MS support directly to upgrade this way. This is being done, to, (direct quote) stop people who are currently abusing the tool.
Seeing the abuse of this offer, Microsoft may withdraw the web page and the relevant tools of the upgrade very soon.