Microsoft has announced some new and exciting tools for its HoloLens. These tools aim at bringing alive the features along with a third person perspective. When Microsoft came up with HoloLens they were well aware that the experience has to be shared by another person as well even if they are not wearing the HoloLens and in order to solve this problem Microsoft has come up with Mixed Reality Capture (MRC) which aims at aiding in the visualisation of the holograms thus letting the wearer see experience the things from the first-person perspective.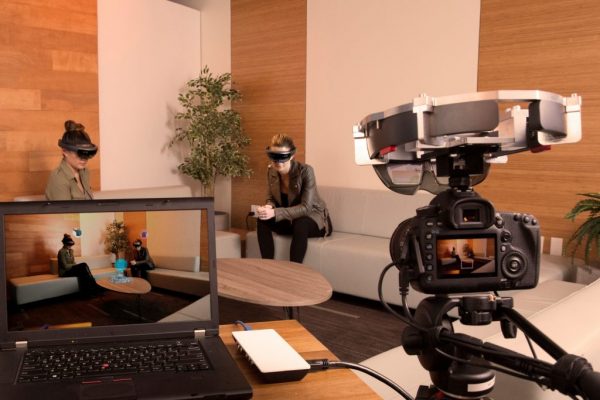 Spectator View for HoloLens
How can I create a way for people to see what someone sees when they are wearing a HoloLens from a third-person perspective? I want people to not only see what I see when wearing a HoloLens, I want people to feel like they are part of the experience!-HoloLens
We have witnessed a plethora of variations when it comes to both virtual reality and Mixed Reality but none of them try to address the case of a third person. With the Spectator View camera things can be bloody awesome, just think about it a person is guiding you through the ruins of Greek while you sit on your couch and munch on popcorn. In a sense, the Spectator view camera literally mirrors what the HoloLens is displaying for the user.
That said MRC comes with its own set of constraints including the ones wherein the viewer has difficulty in following the head movements of the first person. In order to overcome this constraint, the Spectator View camera allows users to see what people wearing Hololens are doing and how they are interacting with the surroundings. Since the spectator view camera is not captured from an actual camera attached to a human's head it won't is subject to the normally imperceptible head movements. A Spectator View camera can be used in the following scenarios,
Capturing photos of a mixed reality scene
Live streaming holographic content to an audience
Capturing a video of a holographic environment.