Microsoft has launched an entirely new website for the Small and Medium Enterprise. Currently in Beta stage, Microsoft Business Hub is expected to go out of beta and expected to be launched officially soon.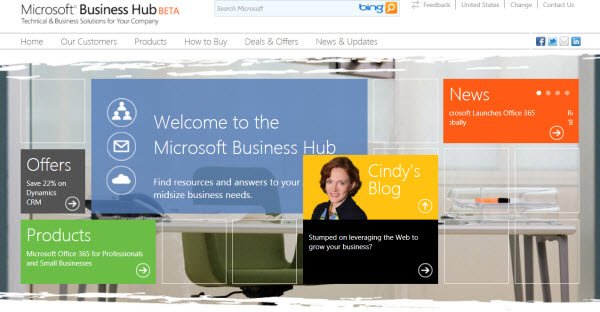 The website has a very clean Metro-ish UI which makes the site very attractive and easy to use. As you can see in the image below, the main menu has Home, Our Customers, Products, How to Buy, Deals & Offers and News & Updates options.
The best thing which we found very interesting was the "How to Buy". First of all, it has filters for volume licensing quantity and secondly it has various other choices which are very attractive. The choices are Full Packaged Products, Open License, Open Value, Open Value Subscription and Enterprise Agreement. All these choices have been designed to suit the size of the organization size and its requirements .
Next most beautiful aspect of this website is that it brings all the Microsoft Business Products under one roof. These are:
Windows 7
Microsoft Office 2010
Microsoft Dynamics CRM Online
Microsoft Office 365
Windows Phone 7
Bing Business Portal
Bing Toolbox
Microsoft Exchange Online
Windows Internet Explorer 9
Microsoft adCenter
Microsoft Forefront
Microsoft SharePoint 2010
Microsoft Lync 2010
Microsoft Security Essentials
Microsoft SQL Server 2008 R2
Windows Intune
Windows Live Messenger
Windows Live SkyDrive
Windows Server 2008 R2
Windows Small Business Server
I hope that website lives up to its expectations and SMBs find it very useful as it will focus on bringing to you news, events, downloads, helpful tips and more.