When it comes to search engines, Google still holds the numero uno position but Microsoft feels the other way! According to it, users prefer search results of Bing (a search engine from Microsoft) to Google in a 2:1 ratio. These are some heavy words indeed but Microsoft is all ready to prove it. The Bing team has launched a new campaign, Bing it on, which presents a side-by-search experience by two of the popular search engines.
Divided in five rounds, users are asked to enter a single query in every round and later mark the side which gave the best results. However, during the test, it cannot be identified as to which search engine provided the results on a particular side (to promote fair play) and it is revealed only after the end of five rounds.
After you take the Bing It On Challenge, we hope you will become a frequent searcher on Bing. It's time to break the Google habit – you deserve more from your search engine. Not only are our web search results better than Google's, we also offer a rich search offering that brings together great search results with friends who know about the topics you're searching for. Our social search features allow you to search with advice and input from friends and experts, providing a new take on search. Now is the time to spend less time searching and more time doing. If you want the best web search results and a new, more useful way to search with your friends, try Bing today, says Mike Nichols, Microsoft.
Users not only get to evaluate the actual results of Google and Bing side-by-side but also stand a chance to participate in sweepstakes and various prizes.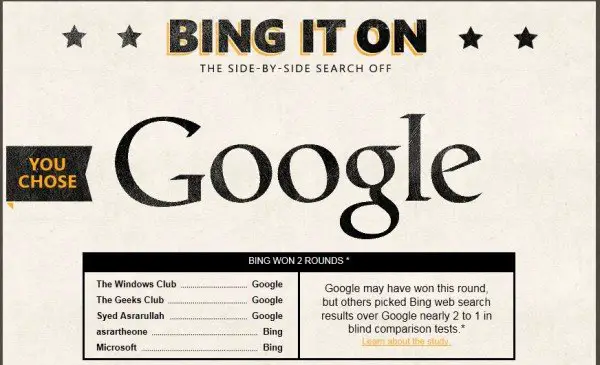 Microsoft is working hard on Bing which is slowly scaling up on the popularity charts with increased usage recorded among web users since it was launched back in 2009. Though the quality of search results has visibly improved, Microsoft and the Bing team still have a long way to go before they can catch up with Google Search in terms of market share.
http://www.youtube.com/watch?v=8Ik57Ifq_u8
Do visit the Bing It On website, test it out and let us know your results. Also let us know what you think Microsoft should do if they want to see Bing as the most favored search engine of all.