Microsoft has cleared doubts on Windows 10 Insiders upgrade offer, after creating confusion among Windows users. All this started when Microsoft posted on its blog, making all surmise that all Windows 10 Insiders would get Windows 10 final version. But later Microsoft edited – twice – its blog post causing confusion.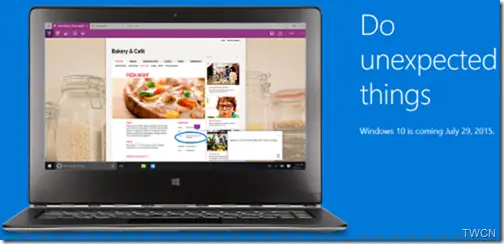 Update (June 22) Microsoft edited its blog post changing some wordings. This is the updated para.
Windows Insiders running the Windows 10 Insider Preview (Home and Pro editions) with their registered MSA connected to their PC will receive the final release build of Windows 10 starting on July 29th. This will come as just another flight. I've gotten a lot of questions from Windows Insiders about how this will work if they clean installed from ISO. As long as you are running an Insider Preview build and connected with the MSA you used to register, you will receive the Windows 10 final release build. Once you have successfully installed this build, you will also be able to clean install on that PC from final media if you want to start over fresh. It's important to note that only people running Genuine Windows 7 or Windows 8.1 can upgrade to Windows 10 as part of the free upgrade offer.*
If we compare with the original blog post which we had quoted in our post , it can be seen that Microsoft had removed the "…remain activated.." and now had added the "…only people running Genuine Windows 7 or Windows 8.1 can upgrade to Windows 10…"
Since Microsoft just edited the blog post without clarifying, it created further confusion, making us wonder, Was Windows 10 not free for everyone?
So Microsoft came back again with another update, this time clearly mentioning the update date and time and the details.
Update 2 (June 22) :
Microsoft's Gabe Aul apologizing to users for the confusion created, said this is a very complex topic. And this because of Microsoft is managing multiple versions of Windows using a new approach of building and delivering Windows and a new Preview program which is different from any program done in the past.
Now it clearly states, Windows 10 whether you get it on its release day on 29th July or you get it in a preview from Windows Insider program is to be installed on Genuine Windows device only. Gabe Aul further made it more clear how the Windows Insider program will proceed in 2 scenarios. And it is quoted here in full:
If one wants to continue as Windows Insider and wants to keep getting preview builds after 29th July :
If you want to continue as a Windows Insider past 7/29 there is nothing you need to do. You're already opted in and receiving builds in the Fast or Slow ring depending upon your selection. This is prerelease software and is activated with a prerelease key. Each individual build will expire after a time, but you'll continue to receive new builds so by the time an older prerelease build expires you'll have received a new one. Since we're continuing the Windows Insider Program you'll be able to continue receiving builds and those builds will continue to be activated under the terms of the Windows Insider Program. We provide ISOs for these builds for recovery from any significant problems, but they are still pre-release software. As part of the program we'll upgrade Insiders to what is for all intents and purposes the same build as what other customers will get on 7/29, but that will be just another build for Insiders, and those who stay in the program will simply get the next build after as well.
If one wants to upgrade his Genuine Windows 7 or Windows 8.1 system that has been getting Windows 10 Insider preview builds on the 29 July release and STOP being an Insider, opting out of Insider program:
If you decide to opt-out of the program and upgrade to the 7/29 build you will be subject to exactly the same terms and conditions that govern the offer* that was extended to all Genuine Windows 7 and 8.1 customers. This is not a path to attain a license for Windows XP or Windows Vista systems. If your system upgraded from a Genuine Windows 7 or Windows 8.1 license it will remain activated, but if not, you will be required to roll back to your previous OS version or acquire a new Windows 10 license. If you do not roll back or acquire a new license the build will eventually expire.
*More information about the free upgrade offer can be found at Windows.com
Microsoft's Gabe Aul further said in the blog post, that the blog post was made keeping in mind the Windows Insiders who have been assisting since the announcement of the program last year and hoping vast majority of them will continue to be a part of it. And for them the upcoming changes to the program blog post was made. Regretting once again for the confusion caused about who was or who was not eligible for the Windows 10 upgrade offer, he hoped that now the confusion is cleared.