It appears that the recent turn of events where a user successfully sued Microsoft for forcefully updating the system, seems to have prodded Microsoft to change their free Windows 10 upgrade policy.
You can now decline the free Windows 10 Upgrade offer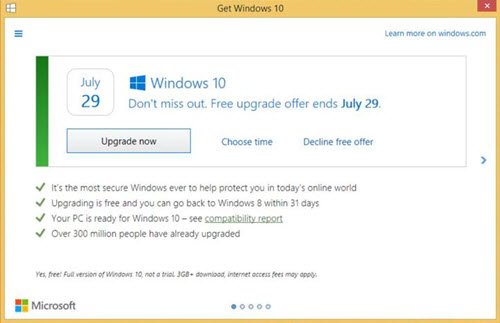 Starting from now Microsoft would clearly be earmarking the update with, "Upgrade now", "Choose time" or "Decline free offer" options. The red cross button on the update dialog box will henceforth completely dismiss the notifications instead of just dismissing it temporarily. Microsoft claims that it has taken the feedback from the customers and has initiated the changes accordingly
This is what Executive VP of Windows and Devices Terry Myerson had to say about the entire incident,
"We started our journey with Windows 10 with a clear goal to move people from needing Windows to choosing Windows to loving Windows. Towards this goal, this week we'll launch a new upgrade experience for millions of PCs around the world. The new experience has clearer options to upgrade now, choose a time, or decline the free offer. If the red-x is selected on this new dialog, it will dismiss the dialog box and we will notify the device again in a few days. We continue to recommend all of our customers upgrade to Windows 10 before the free upgrade offer expires on July 29. Thousands of engineers have been working on making Windows 10 the most secure version of Windows, helping to protect people from viruses, phishing, identity theft and more. We'd like our customers to upgrade and improve their experience with Windows and Microsoft".
That being said, the dialog box is here to stay and it is expected to pop up every now and then much to the Windows 10 users dismay.
Microsoft is also ramping up its tech support and says it will provide free tech support for people moving to Windows 10. Microsoft has been pushing the Windows 10 update in many ways and many users who don't want to update have been forced to update by this. It's considerate of Microsoft to have attended to this issue but we just hope it's not the classic case of "too little too late."
Source: ZDNet.com.