Marking another milestone in Microsoft's plan to enable cross-platform digital security for all people, it has announced that the Microsoft Defender for Endpoint on iOS is now generally available. This public release of the endpoint app enables customers to use all the rich features Microsoft Defender has offered on other platforms like macOS, Linux, and Android.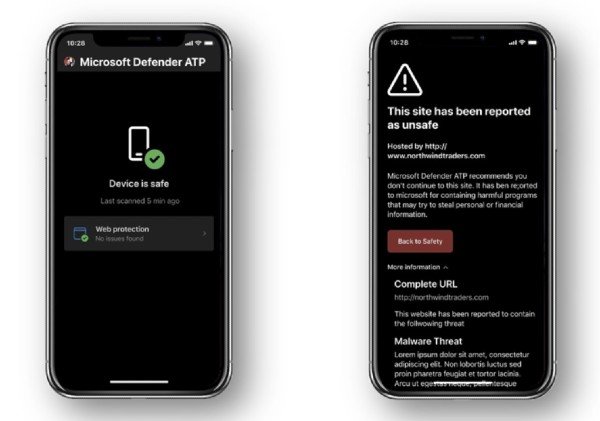 Windows Defender Endpoint on iOS
"We're excited to announce that Microsoft has reached a new milestone in our cross-platform security commitment with the general availability of our iOS offering for Microsoft Defender for Endpoint, which adds to the already existing Defender offerings on macOS, Linux, and Android," Microsoft said.
The company had released a public preview two months back, and it had provided features like mobile threat defense for iOS, advanced threat control for macOS, etc. Many of these features are now available in the Endpoint version for iOS.
If you are part of an organization with a valid Microsoft 365 E5 license, you can download the Microsoft Defender Endpoint for iOS from the Apple App Store. This app, available for both iPhone and iPad, offers you the best-in-class protection, no matter where you are. Anti-phishing protection is an area where Microsoft aims to make a noticeable difference, thanks to smart algorithms and up-to-date databases.
The app has an in-built feedback system through which users can make suggestions and report bugs. By installing this iOS Endpoint app on your device, you will be giving the security admins the power to enhance your security via custom metrics. Finally, the app offers instant protection from malicious content shared via SMS, Instant Messaging, browsers, and email messages.
In the blog post, Microsoft added that it increases the security coverage for Android devices that already use Microsoft Defender for endpoint security. Like we mentioned in the case of iOS devices, this app is made for corporate-owned devices given to employees for work use. Because of this nature, the organization's IT admins will have better control over the work profile.
For instance, the devices might block the installation of certain apps from the Play Store and disallow a Factory Reset option. Similarly, the IT admins can control which apps are installed on the system from the Play Store. To help customers get started quickly, the app has now quit asking for VPN permissions from the user.
Microsoft believes that these two apps, along with the existing lineup of endpoint apps, will ensure an ultra-smooth sail for multi-device digital security management.